PAST BITE
January 27, 2010
What it is: All-natural, cage-free, vegetable-fed chicken
How it comes: Boneless, skinless breast fillets (14-oz), breast tenders (14-oz), boneless, skinless thighs (20-oz), drumsticks (20-oz) and whole chicken (3.5- to 4-lb)
Where it is: To find a retailer near you, enter your zip code at www.justbarechicken.com/where.cfm; currently not available in the northeast
Who it's for: Anyone wanting all-natural chicken
Suggested retail price: Breast fillets, breast tenders, thighs, $4.99; drumsticks, $2.99 per package and whole chickens, $1.99 per pound
Category: Fabulous Food: A healthy twist


---
Bonnie: I like everything about this new Just BARE Chicken from Gold'n Plump Poultry, a family-owned company.
Its chickens are raised humanely, vegetable-fed, contain no antibiotics or hormones and come in easy-open, clear, recyclable plastic trays, allowing you to see what you're purchasing; the whole chicken is in see-through plastic.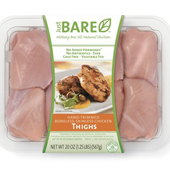 The company is also transparent about its chicken sourcing. Next to the manufacturer's freshness-date code on each package, there is also a family-farm code; to learn where your chicken was raised, just enter that code at justbarechicken.com. The first time I tested this on my whole chicken, I learned it was raised by Jim & Julie S. in Little Falls, Minn., who've been raising chickens since 1996; the second time from Gerry and Connie from Foley, Minn.
And most important: The chicken tastes great.
The only problem is availability for those of us in the Northeast. According to the publicist, "Gold'n Plump is constantly working to secure new retailers, and I know the Northeast is an area of focus for 2010, but I can't confirm any new retailers for that area as of right now."
If you're interested in purchasing Just BARE Chicken, speak to your store manager as they do listen to their consumers.
Bryan: Just BARE Chicken. Could there be a more simple or straightforward product name? It's a pure concept; Just BARE chicken is simply chicken. That might seem overly simplistic, but in a world where even our bottled waters have additives, that's unique!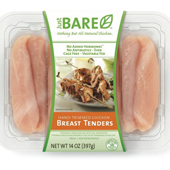 Just BARE Chicken has no added hormones or antibiotics. All of the chickens raised for Just BARE Chicken come from family-run farms, with each package of chicken coming with a three-digit family-farm code. Consumers can use the code to trace the chicken right back to the specific farm where it was raised, and additionally learn some basic facts about the farm.
The Just BARE brand is a new concept. The product is distributed by a partnership spearheaded by Gold'n Plump Poultry, a family-owned provider of premium chicken. There are about 300 family farmers in Minnesota and Wisconsin who also contribute to the brand's line. You might eat chicken every day, but this will still likely be love at first bite. There is nothing like a high-quality product, and this is one for sure! It's amazing when you taste an animal that has not been farmed, as much as it has been raised. Freedom tastes good. So good, in fact, that Just BARE Chicken was selected by the National Grocers Association as one of the top five new products for 2009.
So, what makes this chicken so different? These aren't free-range (and the prices reflect that), but they're also not kept in cages. The chickens live in modern, climate-controlled barns where they are free to roam around, as well as to eat and drink at will. Living in the barn further protects the chickens from environmental hazards, such as avian flu.
More importantly, no hormones or steroids or antibiotics are used in any of Just BARE's chickens. This is simply chicken. The chicken ma'am, just the chicken.
Eric: What a concept – take one chicken, add fresh drinking water, all-you-can-eat natural locally sourced feed and a loving farmer.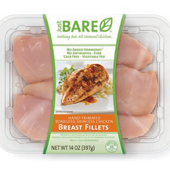 Sound surreal? What's amazing is that this concept doesn't only exist – but it goes the distance in incorporating a sustainable mentality, from 100% recycled packaging to the use of bakery and brewery "leftovers" as part of the chicken feed.
The world is screaming for a new approach and mentality when it comes to food. Just BARE Chicken is answering the call – and it's worth the extra money to support such a cause. Which would you prefer eating; a chicken that had the opportunity to cross the road or one that never left the test tube?
21 Comments on "Just BARE Chicken"
Sandy Says:


this type of chicken that is packed is very fresh always. Bare chicken is sounding delicious also

katyrose Says:


I like this there are to many things added so this is a good name bare nothing added sounds good, have a great day

Henry Says:


I really like your new site shop! Is it possible to buy everything on your site through it, or is it only for appliances, etc? By the way, this chicken sounds great – I'll be checking my local Whole Foods tonight

Jill Steinhauser Says:


What is the difference between Gold n n Plump's All Natural chicken and Just Bare chicken?

Bonnie Tandy Leblang Says:


Henry, our new shop does not (at least not for now) deal in perishable items like this new BARE Chicken. But we do have lots of other foods and food-related goodies – so check it out! (You'll find it in the top navigation bar)

And Jill: I've forwarded your query to the folks at Gold'n Plump – so stay tuned!

Diane Says:


Hi…..A few months ago I had asked about reviews for the Ninja Master and had gotten several comments about stripped gears……..sooooo, because of several negative responses about this product, I decided to return it to the store. Thank you for all the helpful responses, but now I get these many comments constantly and have tried to unsubscribe to this website, but the responses just keep on coming! I heard from someone last week and was told they are trying, but there is a glitch somewhere with your computers and you guys are trying to work it out. I would like to unsubscribe Thank you in advance for your help! Sincerely, DM

Bonnie Tandy Leblang Says:


Diane, I believe I was finally able to remove you from the list. As I had mentioned there had been a glitch that our programmers were working on. Thank you so much for your patience.

Julie Berling Says:


The main difference between Just BARE Chicken and Gold'n Plump All Natural Chicken centers on the use of antibiotics and natural animal byproducts (which includes meat and bone meal, and vegetable/animal fat blends which are some of the best, most readily available sources of protein and fat).

In terms of antibiotics, chickens raised for Just BARE are never, ever given antibiotics of any kind, neither in the shell nor while being raised. Gold'n Plump flocks, by comparison, are administered antibiotics as needed to maintain flock health and ensure humane care (as are many other commercially available brands of chicken) and animal products. While the use of antibiotics pose no risk due to the fact that we follow stringent FDA and USDA guidelines for their use, we offer Just BARE as an alternative for consumers who are concerned about their use. The guidelines I mentioned include regulated and thoroughly tested withdrawal periods that far exceed the time it takes antibiotics to pass through a chicken's system–thus ensuring there's virtually NO antibiotics residue in any of the chicken we sell and consumers buy and serve their families. You might wonder why we don't just raise all our chickens without antibiotics. Just BARE is only a small portion of the products we sell, so we're able to use other methods to maintain bird health (like flock rotation) that we cannot do with all of our flocks. Until alternatives to antibiotics become available, antibiotics will remain an important tool for minimizing disease and unnecessary suffering and death while ensuring the quality of our products.

In terms of animal byproducts, chickens raised for Just BARE are never fed any animal byproducts. Again, though animal byproducts pose no safety risk, we offer Just BARE for consumers who are concerned about their use. Gold'n Plump flocks, by comparison, are fed proprietary feed formulas containing naturally nutritious corn, soybean meal, canola meal, minerals, vitamins and a small percentage of natural animal byproducts. We have 100 percent confidence in the safety and integrity of all of our feed ingredients because of the long-term relationships we have with proven suppliers. In addition, our feed formulas are developed under the direction of experienced nutritionists to produce healthy chickens, and wholesome, tasty chicken products and meet all FDA and USDA standards for food safety and quality.

Aliciaz Says:


Hi.

Terry Wattree Says:


I have recently tried your chicken and it is good. I wondered about the cage free part, so I decided to look you up. Most of the reviews sound like a PR campaign. Bryan (http://www.biteofthebest.com/just-bare-chicken/revealed) did reveal "These aren't free-range (and the prices reflect that), but they're also not kept in cages."

I would certainly buy 'Just Bare' in preference to other poultry in the stores, but I have available small farmers who bring their own poultry to city markets. They do grow free range and the difference is evident.

Kim Says:


I've been buying the chicken for a few months because organic, free-range chicken is so hard to find and so expensive (I'm currently umemployed. )I would like to know exactly what is included in the "all natural, vegetarian" food that is given to the chickens. It may be natural, but this doesn't insure that it's not genetically modified and/or raised without dangerous pesticides/chemicals. You see, there's a lot more to think about than just leaving out the hormones, antibiotics and animal by-products. Still a better alternative to the other commercial chicken, but I am wating for the day when the big producers find a way to offer true organic chicken for a moderate price – for the sake of my health and that of all those I love.

FDA takes first step toward food system reform – SmartPlanet Says:


[...] BARE chicken (above), a new brand for more naturally-produced poultry, costs at least $2 per pound, twice what your average Tyson chicken [...]

rose41 Says:


where can I buy this chicken. I live near Biloxi, Ms. 39540 zip code?

Thanks
Rose

Bonnie from BiteoftheBest.com Says:


To find a retailer near you, enter your zip code at http://www.justbarechicken.com/where.cfm

Where to buy Just Bare Says:


hi,
Just mentioning Just Bear. Wheere is it sold on the East coast"
Thanx

david frohn Says:


Where are "just bare" available in zip 78023 or San Antonio Tx. area.

Many thanks

Ron Page Says:


Just BARE Chicken w/ up to one percent retained fluid. The other brands have up to 15 of 16% retained fluid. Not only do you get an excellent tasting chicken you do not pay for added water weight. Cooks up plump and juicy on the grill.

Suzie Says:


Just wanted to take a few minutes to compliment you on your product of Just Bare Chicken. To be honest, I used to be a faithful Foster Farms Chicken customer. A few months ago, after a Foster Farms recall, I decided to try Just Bare. I was impressed with the product. I also love knowing that it is "just chicken," without any hormones or steroids added. The one problem is the price. I definitely now prefer Just Bare, but it is a bit pricier. I was wondering if you might have a few coupons that you could send me. I would love to continue to be a Just Bare customer. Your product is outstanding!

Melissa Says:


Omg! I had my first Just Bare whole chicken last night and I would have to say it was the best that has ever made it out of my oven. I gave my chicken a good EVOO & poultry seasoning rub down and holy heck- it was great! Moist and cut with a fork! I will never buy any other chicken!

Ellen Says:


I so agree with Melissa! It is delicious tender chicken

Betty Says:


Soy, corn and canola are likely all GMO crops and the chicken would contain pesticide and herbicide as these ingredients are in seeds genetically altered and that makes the kernels of corn, beans of soy, and whatever part of canola plants are ground to feed the chickens. I and many others are longing for the day when we can purchase truly clean and healthy meats, whether they be chicken, turkey, pork or beef.
Rate This Product
Mouseover the crowns to highlight your rating and then click to record your rating. The rating shown is the average of all the user votes. You can only rate each product once.
Leave a Comment or Write a Review
Posting Policy
Bite of the Best encourages our readers to comment on and review any products that we write about. Please express your opinions in a mature and civil tone of voice. We will not post rude or otherwise inappropriate material on Bite of the Best. We look forward to your comments and reviews!