CITY EDITIONS
April 24, 2010
A new Italian bakery — Il Cantuccio 91 Christopher Street (at Bleecker Street) —  opens its doors in the heart of the Greenwich Village today, Saturday, April 24, 2010.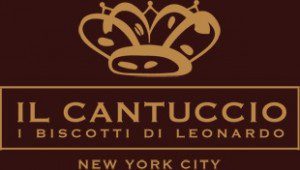 Owners Camilla Bottari, Lorenzo Palombo, and Simone Bertini bring decades of confectionery experience and a secret cantucci recipe to the palates of New Yorkers.
Hailing from Prato in Tuscany, the partners of Il Cantuccio NYC offer a selection of gourmet bakery products, including a unique interpretation of the cantuccini or cantucci — the regional semi-soft biscotti — that's for breakfast drenched in milk or coffee, as a snack with an herbal tea, or as a dessert with a glass of muscat or rum.
Il Cantuccio NYC also offers a thin and crispy pizza, slightly golden, drizzled with olive oil. The unique Prato-style Tuscan bread without salt is a new twist on toasty breakfasts. Olive oil schiacciata, or hand-strewn focaccia, is another freshly baked item, delicious hot or cold, alone or stuffed with a large array of imported cold cuts (Prosciutto di Parma, Mortadella, Salami) and organic vegetables.
- Guest contributor
3 Comments on "Il Cantuccio, Italian Bakery Opening Today"
giovanni pilosio Says:


It seems like something new, original and very interesting, definitly worth a visit. gp

Denise D'Alessandro Says:


I visited this amazing bakery yesterday.. I live in Jersey and its a 10 minute ride for me. So worth the trip.. I highly recommend the panini de mortadella and the proscuitto de parma on faccacia. It was like being in Italy simple but so good. The foccacia is delicious I bought a few pieces of each different kind to bring home. Make sure you pick up some cantucci. I had the chocolate and apricot ones sooo yummy… This might be an every Sunday stop for me….

Naming into colloquial descriptions | Storychanger Says:


[...] semi-soft biscotti", which was picked up by AM New York's story, as well as many food blogs, despite Florence Fabricant's glowing NYTimes [...]
Leave a Comment
Posting Policy
Bite of the Best encourages our readers to comment on and review any products that we write about. Please express your opinions in a mature and civil tone of voice. We will not post rude or otherwise inappropriate material on Bite of the Best. We look forward to your comments and reviews!