TIDBITE
July 13, 2009
I heard a very interesting announcement recently about the launch of Estrella Damm INEDIT, a beer specifically created for food pairings. This artisinal beverage is crafted by Ferran Adrià & Juli Soler (elBulli chef & sommelier) and Estrella Damm, the ubiquitous brewer of Barcelona.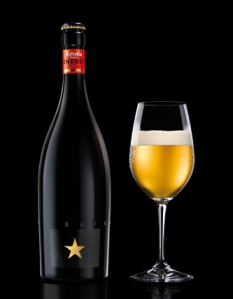 How can you argue with this product!?
This incredible beer is already highly lauded within talented circles of the culinary community. INEDIT was introduced to the US during an event hosted by Dan Barber at his restaurant, Blue Hill at Stone Barns. Barber was recently awarded Time magazine's 100 Most Influential People in the World and named the nation's Top Chef by the James Beard Foundation. Ferran Adriá, who created the beer, was also named one of the world's top chefs by Restaurant magazine for the fourth consecutive year.
These are some pretty big heavy weights touting the merits of a beer! Ah, but this is no ordinary beer…
"INEDIT was developed from the belief that there was a need for a beer that could complement a dining experience," said Ferran Adrià, elBulli Executive Chef.  "INEDIT is the fruit of more than a year and a half and 400 trial iterations between the master brewers of Estrella Damm and the team of sommeliers at elBulli."
Developed specifically for use with food, INEDIT is an alternative to wine for pairing. The beer is a unique combination of barley malt and wheat with rich spices, providing an intense and complex aroma. A few suggested pairings of note include a variety of salads, vinegar-based sauces, asparagus, artichokes, fatty and oily fish, and citrus.
The drink has a delicate carbonation and is slightly cloudy; intense spices and an almost unfamiliar creaminess produce a long, pleasant aftertaste. I look forward to trying more combinations (and testing it out on a cheeseburger).
Unlike most beers, INEDIT is bottled in a 750 ml black wine bottle and is intended for sharing over a meal. Estrella Damm recommends serving in a white wine glass, filled halfway and chilled… providing an optimal tasting environment.
-bryan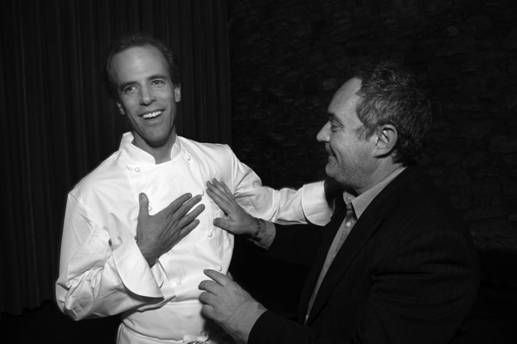 A Little About Estrella Damm
Established in 1876, Estrella Damm is an award-winning, premium pale lager known internationally as the "Beer of Barcelona".  During its 133-year tenure, Estrella Damm has remained the number one beer in Barcelona.  An independent brewer with its own personality, Estrella Damm is known for its creativity.  Estrella Damm produces five million hectoliters of beer per year.  United States Beverage, LLC imports Estrella Damm to the United States.
A Little About elBulli
Considered the world's premier chef, co-owner of elBulli, Ferran Adrià is the Executive Chef of three starred Michelin restaurant.  Known for its originality, elBulli is considered the most imaginative generator of haute cuisine internationally and responsible for influencing avant-garde cuisine worldwide.  Partner of Ferran Adrià, Juli Soler is the co-owner of elBulli.  Also influential in the creation of INEDIT are acclaimed sommeliers of elBulli, Ferran Centelles awarded best sommelier of Spain by Ruinart in 2006, and David Seijas awarded the "Golden Nose" in 2006.  For the fourth consecutive year, elBulli has been named "The World's Best Restaurant" by Restaurant magazine.
10 Comments on "Gourmet Beer: Estrella Damm INEDIT"
Robert McGowan Says:


NYT article said Estrella Damm Inedit is available at Whole Foods markets (for $9.99 a bottle), but Whole Foods here in Michigan doesn't carry it. Does any Michigan store sell the stuff? If not, is anyone shipping this stellar brew to the Detroit area? RSVP

Bryan Leblang Says:


Hi Robert. Finding specialty food items can sometimes be a bit of a chore. If you've been told that Whole Foods is carrying it, I would make sure to inquire with your local Whole Foods beverage manager before moving on. If that fails, go to a large liquor store and ask them to order some for you. Many larger liquor retailers will often be happy to do it for you (especially if you're ordering a case). You can also contact Estrella Damm directly here if you'd like http://www.estrelladamm.es/inedit/contact.php?lang=en

Barbara Says:


Where can I purchase this beer in the NJ or PA area.

Bryan Leblang Says:


Hi Barbara. It's a bit hard to tell what stores are carrying this unique beverage at the moment. Many larger liquor retailers will be happy to order some for you, but you can also contact Estrella Damm directly here if you'd like http://www.estrelladamm.es/inedit/contact.php?lang=en

Another option would be to be it online, one example is: http://www.kahnsfinewines.com/

John Says:


What a fabulous beer; so wonderful with food.

I got it at Wegman's in Collegeville, PA, which has a superb beer section.

James Cormack Says:


$9.99 are you joking, only a sucker woudl pay that for a not bad wheat beer. Don;t buy it just because it has a fancy bottle, its nice, but its not really any different to Blue Moon. I just got it for $1.99 in 21st Ammendment on offer. $9.99 HA HA HA I am still choking on that one LOL

But seriously, it is very nice, i was impressed. If it was $9.99 I'd have laughed and put it back on the shelf and bought 12 bottles of Killians.

James Cormack Says:


Also I forgot to add, what do they mean there was a gap for a beer that goes good with food? How many beers have they tasted, that's a nonsense, I am a lover of beer and a very good cook, I can recommend a beer for any dish you might have, and one beer can not go with every dish. This is just silly, putting it in a fancy wine bottle will not make it fit better with dining room fare? I would definitely rate Blue Moon higher than this beer, so if you want something that tastes like this but better to have with your meal, buy a blue moon and put the cash difference on a bigger steak!

Dan Bachmaier Says:


Best real beer I've had in a long time. Not that much of a wheat taste to it when properly served at right temp.I'm more of a German beer myself but really love Estrella Damn Inedit and would pay 20 bucks a bottle.

Mark Morency Says:


I brew beer. I also cook. This beer is not only a novelty act, but only of moderate middle-of-the-road quality. You want a beer that pairs well with food? There are thousands. You favor Belgians? Try Fantome (a delicious line of Saisons brewed in Belgium incorporating wonderful yeast created flavors along with herbs like rosemary, etc.) This beer is nothing but an over-priced marketing experiment at targeting the niche market of newly-minted class of foodie-turned-beer-afficianado.

lucie latraverse Says:


where could we buy your beer in québec state we bouth at the S A Q BUT THEY dont have any more wait new lucy sorry for my englis we speak french.
Leave a Comment
Posting Policy
Bite of the Best encourages our readers to comment on and review any products that we write about. Please express your opinions in a mature and civil tone of voice. We will not post rude or otherwise inappropriate material on Bite of the Best. We look forward to your comments and reviews!