CITY EDITIONS
February 12, 2010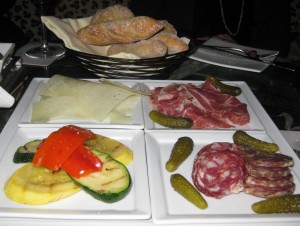 Locating a quiet place to get a drink and nibble before theatre isn't easy, as most New York City places are bustling with crowds. The Gaby Bar at Hotel Sofitel is an exception, albeit a pricey one.
I stopped by the Gaby Bar recently with a friend after a press screening of the powerful documentary "Mine," about the bond between humans and animals — set in New Orleans in the aftermath of Hurricane Katrina. This movie, directed by Geralyn Pezanoski, won the Audience Award at both the SXSW Film Festival, and San Francisco Documentary Festival. Worth seeing for sure!
We each sipped a glass of Lafite Reserve, Speciale Bordeaux Blanc ($13)  and nibbled a "La Provencal" platter ($24) of grilled vegetables with sea salt, prosciutto, Idiazábal (a sheep's milk Spanish chees)  and saucisson sec. Delicious — at that price I had hoped for a few more veggies.
- bonnie
Gaby Bar at Hotel Sofitel
45 West 44th Street
New York, NY 10036-6613
(212) 354-8844
3 Comments on "Gaby Bar for a Pre-Theatre-Area Nibble"
Robin Zygelman Says:


I am a lover of animals and I would love to see that film "Mine". Can you please tell me where it is playing nationwide.

Thank you in advance.

Bonnie Tandy Leblang Says:


Robin – I've sent an email to the publicist for the film – and am hoping she'll respond shortly. Stay tuned.

Claire Weingarten Says:


Hello Robin,

MINE is currently available on iTunes. I don't have the widget handy, but if you visit the film's blogspot and scroll down the right-hand side you will see several links including one that will take you to the iTunes store where you can buy or rent the film:
http://mine-the-movie.blogspot.com/

Also, the movie will be available on DVD (via Amazon, Netflix, Blockbuster, FilmMovement.com and other sites) on May 4th. If you're a Netflix user, you can go there today and queue it up already.

Thanks for your enthusiasm–this is truly a moving film!!
Leave a Comment
Posting Policy
Bite of the Best encourages our readers to comment on and review any products that we write about. Please express your opinions in a mature and civil tone of voice. We will not post rude or otherwise inappropriate material on Bite of the Best. We look forward to your comments and reviews!