PAST BITE
May 13, 2009
What it is: An eco-friendly charcoal replacement that uses solid ethanol as the fuel source and lasts 40 minutes
How it comes: One disk per package
Where it is: At supermarkets, hardware stores and shop
Who it's for: Anyone wanting to quickly start (with a match) grilling, as once lit this is ready to cook in less than one minute
Suggested retail price: $4.99
Nutrition notes: NA
Category: Kitchen Counter, Drawer & More


---
Bonnie: Who doesn't love the taste of food cooked on a grill? Because of that, I use my outside gas one all year round — except when the snowdrifts don't allow me to open the screen door.
I've lugged charcoal, a chimney starter, newspaper, boxes of wooden matches and sometimes even a minigrill to tailgates, picnics and other outdoor gatherings. Sure it was a hassle, but there was no other option if we wanted grilled food. Until now.
Note: A chimney starter is a tall metal cylinder used to quickly start briquettes.
When the PR person from FlameDisk pitched this greener alternative to charcoal, I was intrigued. I had to test it. If it worked as she described, I thought we'd share this info with all of you as it could be something to keep on hand for those outdoor grilling get-togethers sans schlepping.
"Easy to use" is an understatement. Just remove from the box, peel off a film, place inside your grill and light one of the holes with a match. It's ready to grill in just seconds and lasts about 40 minutes.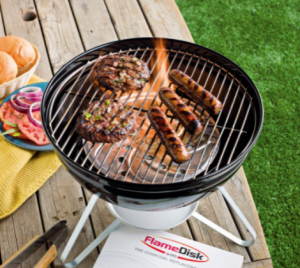 The FlameDisk comes packaged in 9.5×1-inch box, something easily stored in your car or a closet. Keep one on hand for tailgating, picnics, boating, camping or for the time your propane tank runs out.
The only caveat is the small 9-inch cooking area, but with it reasonably priced at $5, you could use two.
Bryan: Cooking over an open flame imparts a different taste, texture and essence to foods that can simply not be duplicated. The love affair with the "open flame" has turned grilling into a staple of American cultural cuisine, with tailgating traditions and backyard BBQs woven through the fabric of our country's culinary offerings.
If you grill (I do), you likely grill in two places — at home and "on the move." Many, myself included, have turned to propane for our home grills, opting for the easier route over the more traditional (and revered) hot coals. I love my gas grill and don't miss lighting coals at all. It's faster and cleaner, with the only drawback being the occasional "Oops, we're out of gas." Cooking on the move is a bit trickier. I don't have a portable gas grill, so when I decide to go tailgating, camping, on a picnic or otherwise, if I'm cooking, it's wood or coals, and it's a pain in the a$$.
I absolutely love this product! FlameDisk has solved all my outstanding grilling problems. So, "what is it?" you're asking. FlameDisk is an ethanol fuel cell that's about the size of a large dinner plate. The cell can be placed inside any grill and is lit by simply touching it with a match; in a matter of minutes you're grill is flaming hot and ready to cook on. After having run out of propane a few too many times (and yes, in sitcom fashion, once during a dinner party), I now keep a FlameDisk on hand at all times…. It's a savior when your grill dies halfway through your burgers. Simply turn off your gas valve, carefully remove your grilling surface and place the FlameDisk in. Light it and you're back in business!
On the move, there could not be a better fuel. FlameDisk works with any grilling surface where coals would normally be used and is so much easier to transport and dispose of. Though a bit pricier than charcoal, at about $5 each, the FlameDisk more than makes up with efficiency and ease. FlameDisk uses safe, renewable ethanol, lights immediately and does not flare. It cannot spill and it cools quickly when spent, providing heat for about forty minutes. Additionally, designed with a SmokerPlate, meat juices drip down and burn-off to impart a smoky, grilled flavor to your dishes. FlameDisk cooks at a similar rate and temperature as a charcoal or propane grill, so if you typically cook your burgers five minutes on each side, do the same with FlameDisk. As a safety note, please be aware that you should only use FlameDisk outdoors, as this is an open flame. Grilling season is again upon us. Get out there!
Eric: One of my biggest problems is my inability to express what I'm thinking. Although the thoughts are clear to me in my head, when it comes time to verbally express them, I begin to trip over my words. The unfortunate part is that this affliction translates into my writing. Particular in this blog, I tend to put myself in the consumer's shoes, and write what I would want to read if I were debating over purchasing a product. Here is my reasoning for purchasing the FlameDisk:
1. Clean fuel alternative to the standard charcoal;
2. Easy to transport and safe to use on the grass, sand or pavement;
3. Quick to ignite; translating into a reduced meat-to-grill waiting time;
4. Slightly expensive, but worth every penny when the BBQ isn't at your house;
5. No mess to clean-up.
Although it's an alternative to charcoal and wood, it doesn't replicate the distinct flavor that both of them provide. The practicality of the FlameDisk is stated above, so the choice is yours. The real question is:
Why not have one on hand?
20 Comments on "FlameDisk"
Mark Says:


I've tried this product and it works well. Quick, clean and easy. Food tasted absolutely great (bratwurst, hot dogs, burgers).

sissy546 Says:


I didn't know this existed. We have used many different charcoals and chimney starter etc and I don't like the difficulty in starting the fire and don't seem to have the patience for it,so this is something I leave to my son. My other son uses only gas. With this I can do it myself. I will look for this and hopefully I will be grilling soon.

3libertygreen Says:


Bonnie: Thank you for your recommendation of the Win Saco Cultured Buttermilk Blend for cooking. It is just the thing to have on hand for my Cranberry-Orange Scones at 3 Liberty Green Bed and Breakfast. Also, thank you for the suggestion to reduce the size of the scones into more appealing "right size" portions! As a proud new visitor to your web site, I look forward to more breakfast bites.

Bonnie Tandy Leblang Says:


3libertygreen, Thanks for the kinds words — and welcome to the Bite of the Best community!

Bonnie Tandy Leblang Says:


sissy546 – If you can't find this easily in your supermarket, it is available at http://www.amazon.com

tmb Says:


I have used this and it works! My burgers tasted great. And no hot coals for hours. Charcoal is a dinosaur – I'm using this from now on.
TMB

BW Says:


Bonnie, very nice piece on outdoor cooking. It's nice t read the boys' blog as well

Bill Johnson Says:


These things are terrible! I bought a bunch of them thinking "eco friendly", ethanol, good for farmers, etc. The flames sear the food instead of cooking it. Any grease that hits the pan is instant flames. It is a good idea, but will never replace charcoal. It was a new "grilling experience" for me. High flames and fast moving flipping food. I am using the rest of them to light my campfire pit. Nice try FlameDisk, but not good for true grilling of food.

Morgan Says:


Hello Bill,

I work for Sologear, the makers of the FlameDisk, and I'm sorry to hear your grilling experience with the FlameDisk did not meet your expectations. We fully stand behind the FlameDisk for all of the reasons listed by the Bite of the Best reviewers above; additionally, I want to remind you that we do offer a money back guarantee. Feel free to email me info@sologearcorp.com for more information.

Some food types grill easier on the FlameDisk—burgers, brats, hotdogs, chicken, corn, etc. Really greasy or heavily marinated foods may cause more flames and require the griller to more carefully attend to the food.

Sincerely,

Morgan

Mike Says:


While in the supermarket recently, my wife and I noticed the "Flamedisk" on display. Our first response was to scoff at the solid state fuel source for grilling but after reading the package we decided to try it out. I am an avid grill person and love to cook outdoors at every chance I can. After reading the instructions I opened the cardboard packaging and removed the "disk". I removed the metallic cover (I had a little trouble with it at first) and placed it in my Weber charcoal grill. I noticed that the packaging states that the "Flamedisk" needs four minutes before it is ready to cook food, however the product seems to need more like eight to ten minutes to reach optimal temperature. After the grill was hot enough I started to cook some sausage and hotdogs. I must say the "Flamedisk" worked great and cooked the food quickly with no after taste. Clean-up was a cinch (the "Flamedisk" took a bit longer than 45 minutes to cool completely) as I picked up the used disk and put it into the trash. I am fully impressed with the "Flamedisk" and will recommend it to my family and friends. Thanks! Great product!

Steve daniels Says:


This product sears the food and does not impart a true grilled taste. It is fine for other cooking options where one would use a can of Sterno. A neat concept, but constant flare ups from dripping graese cause excessively high flames and charring. It will never replace the experience or taste of true charcoal gtilling.

J Adamo Says:


I am very intereseted in this product, but I am concerned that the disk does not stay hot enough long enough. Does anyone have any recommendation for what to do when you want to BBQ something for one hour or longer? (Like food wrapped in tinfoil?) Do I just remove the first disk and put a new one in?

Morgan Says:


Hello J Adamo,

On the occasions that you want to grill food for longer than 45 minutes, grabbing a second disk and dropping it in the grill would be your best option. As state above, I work for Sologear, the makers of the FlameDisk, and after researching how most people use grills and the types of foods most commonly grilled we decided that a 45 minute burn time would be optimal for most grilling occasions. This amount of time is great for a couple of rounds of food like burgers, brats, and chicken. I think most foods, even those grilled in foil, are going to be pretty well done after 45 minutes over the FlameDisk.

If you have any other questions please email me at info@sologearcorp.com.

Sincerely,

Morgan

Bill Johnson Says:


You guys are nuts! They sear the food without grilling from heat. Anything greasy just makes the flames worse. They cook hot dogs just fine, but try brats or a good fatty steak and it is flame city! If you put the lid on the grill for a true barbeque type finish, the flames will extinguish. I have tried every type of food with these and hot dogs are the only thing that cooks half way descent. I used the rest of mine to light campfires. If you can prove me wrong, I'd love to see it. Grilled 2 filet mignons with these and they destroyed them. I believe in green and alternate fuels, but these are not the answer. I love mesquite and hickory flavoring but you just cannot do it like a conventional grill with charcoal. These are a great idea, but just don't "cut the mustard". Not badmouthing them, just don't work as they are described.

Morgan Says:


Hello Bill,

I'm sorry to hear you've had problems grilling food over the FlameDisk. I've had great luck with the product, but as I've disclosed before I work for the makers; so please don't take my word for it. Look at independent reviews like the Bite of the Best has above or maybe Cooking Outdoors http://www.cooking-outdoors.com/flamedisk-fast-easy-and-clean-grilling-heat or Tailgating Ideas http://www.tailgatingideas.com/flamedisk/

We also filmed actual FlameDisk users at a tailgating events around Wisconsin last year. That video can be found at http://www.youtube.com/watch?v=w9XrisXGWvk&feature=player_embedded

We also stand behind our product's performance 100% and do offer a money back guarantee with proof of purchase if you have any issues.

Morgan

susan Fellers Says:


I've been trying to find a flamedisk, and can't, We're in Dallas, and are not on the East Coast – isn't this widely distributed? I can't find it in Tom Thumb, Kroger, or Walmart, for that matter. Not my local sports equipment place either.

Bonnie from BiteoftheBest.com Says:


Susan, I've contacted the company but they haven't responded yet. Just a reminder that you can find this in the BiteoftheBest.com shop. Just click the buy it button!

JT Says:


Just a BIT more expensive than charcoal grilling? If it costs 5 dollars each disk? Yea right. I can get a 20lb bag of Kingsford charcoal for about 7 bucks at my local Wal-Mart. (Even cheaper if it's a holiday or something and they're having a b1g1free sale@ lowes) Pair that up with a one time cost of 20 bucks for a chimney charcoal starter and consider the fact that I can grill probably about At least 7-10x with that one bag of charcoal. A BIT is a little under-exaggerating, don't you think? Just for curiosity sake, I'm going to try this "flamedisk" if I ever come across it at the store, but if the taste isn't as good or better than using charcoal and if the convenience of the product doesn't make up for it being about 5x more expensive than using charcoal, then I wont try it again. I grill mostly just burgers, kabobs, chicken, and finishing ribs (i bake the ribs to cook them 3/4ths of the way and then finish them on the grill while saucing them for the grilled taste and look)

Bic lighters bulk Says:


[...] Flame Disk can be used in charcoal grills to cook a variety of foods. When ready to light, peel of film cover [...]

lindsay Says:


Fantastic blog! Do you have any tips for aspiring writers?

I'm planning to start my own site soon but I'm
a little lost on everything. Would you recommend
starting with a free platform like WordPress or
go for a paid option? There are so many options out there that I'm completely confused .. Any tips? Cheers!
Rate This Product
Mouseover the crowns to highlight your rating and then click to record your rating. The rating shown is the average of all the user votes. You can only rate each product once.
Leave a Comment or Write a Review
Posting Policy
Bite of the Best encourages our readers to comment on and review any products that we write about. Please express your opinions in a mature and civil tone of voice. We will not post rude or otherwise inappropriate material on Bite of the Best. We look forward to your comments and reviews!