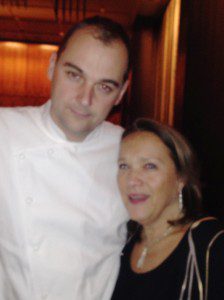 I'm in love with Daniel Humm, chef/owner of Eleven Madison Park.  (Okay, so I do have a tendency for hyperbole!)
I recently met and chatted with this tall, trim chef (he's a marathon runner), who lives in northern New Jersey with his wife and two young children. He is undoubtedly one of the most down to earth, unpretentious New York chefs I've ever met.
My first meeting was earlier this week at a special "Best of the Alps" luncheon at Eleven Madison Park, and then last night at the Four Seasons Restaurant at the James Beard Foundation Silver Anniversary Gala, celebrating 25 years of outstanding chefs.
For last night's event, Daniel prepared a fillet of beef, stuffed with celery and truffles, wrapped in Swiss chard and in a Madeira sauce, accompanied by chicken liver pate toast. A recipe from James Beard's "Menus for Entertaining" inspired his dish.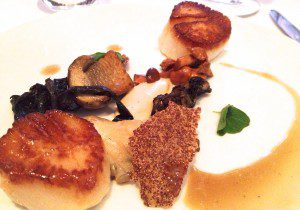 (The photos included here are from the Best of the Alps luncheon: Scallops seared with mushrooms, pine nuts and bulgur; Beef roasted with bone marrow, rutabaga and rye berries.)
"James Beard Foundation is so good for our industry," said Daniel. "Thanks to the Foundation, the profession is much more respected..
"I enjoy creating something in a day with my hands with instant results. We're craftsmen."
Daniel Humm hails from a small town (with only 1000 people) outside Zurich, where he began cooking as a young boy. He joined Eleven Madison in 2006 and — earlier this year —bought it, along with a partner, from Danny Meyer and opened NoMad (at 28th and Broadway). He currently splits his time between his two restaurants.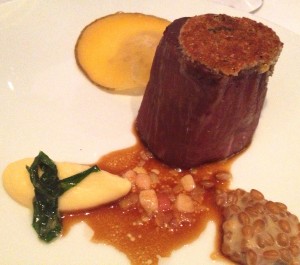 The new 16-course tasting menu ($195) at Eleven Madison focuses on the agricultural bounty of New York,  including fish from the Atlantic and foods from the Hudson Valley. Humm wants you to "experience a sense of place… to experience what really is New York cuisine."
Eleven Madison has won many James Beard awards including Best Chef: New York; Outstanding Chef; Outstanding Service.  Perhaps with this sweet, unpretentious man at the helm, NOMAD will be a winner this year for best new restaurant.
Save
Save