CITY EDITIONS
November 23, 2011
When the invite came for a 12-course celebration of the wines and foods of Catalunya as seen through the eyes of Sommelier Josep Roca and his chef brother Joan Roca, as interpreted by Mercat. I couldn't resist.
El Celler De Can Roca — a Catalan restaurant in Girona, Catalonia, Spain operated by the three Roca brothers — was recently voted number-two in the S.Pellegrino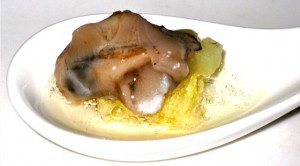 World's 50 Best Restaurants rankings produced by the British Restaurant magazine; it has three Michelin stars.
I had eaten at Moo, their sister restaurant, located in Barcelona's Hotel Omm, but hadn't made it to El Celler De Can Roca. Remembering that meal's flavors and attention to detail certainly whet my appetite.
The Associació Vinícola Catalana (Catalan Wine Association) hosted the evening, highlighting the wines of Catalunya, the second largest region of Spain. To say evening's the 12-course meal (menu follows) and perfectly matched Spanish wines was spectacular, is an understatement.
We began the evening sipping Cava – a sparkling wine produced only in Catalunya. Our first dish — a lone oyster served in a Chinese soup spoon atop solid champagne and gingerbread — was an explosion of flavors with a ginger-curry finish.
"Solid ch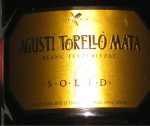 ampagne?"
Across from me sat Jordi Bort Ferrando, from the Spanish Wine Institute (Institut Catala de la Vinya i el Vi), who decided to answer that query by showing us a bottle and providing a taste. Yes, the bubbly  is thick and viscous, but not solid… that's just its name (see label).
The shining star of this amazing menu was the foie gras served with Albert de Vilarnau F. Barrica Brut Nature Gran Reserva, D.O. Cava.  The chef wrapped the heavenly foie gras timbale with paper thin apples slices and served it with crispy bread. One taste triggered an explosion memories of other foie gras that I have eaten, including a time when a group of foodies at a James Beard board meeting sat around a table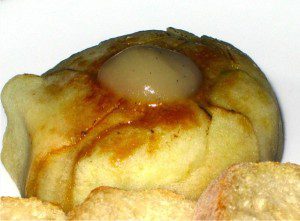 responding to the question, "What's the best foie gras you've ever eaten?"
Until this dish, mine was a special preparation, deglazed with Calvados that André Soltner made for my 40th birthday celebration at Lutèce. Don't tell Andre… but this ethereal foie gras outshined that. It was truly orgasmic.. I'd call it sex on a plate. And the Cava served added to the perfection of the course.
The Spanish wines got better and better… and better as the  evening proceeded, reminding me how wonderful they can be. Check out this menu and matching wines, to get some ideas for your next dinner party.
Oysters on solid champagne with apple compote, gingerbread, cumin, curry, ginger confit
Agusti Torello i Mata Brut Nature Gran Reserva 2007, DO Cava
Foie gras timbale with apple and vanilla
Albert de Vilarnau F. Barrica Brut Nature Gran Reserva, D.O. Cava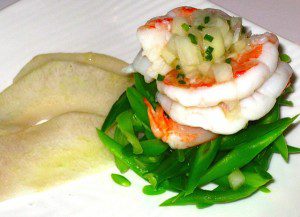 Pork feet Carpaccio with oil, diced tomato, roasted hazelnuts
Celler Batlle 2001 Gramona, D.O. Cava
Green beans nest with fresh pear salad and prawns
Xarel.lo Classic Albet i Noya 2010, DO Penedès
Sole with flavors of the Mediterranean: fennel, orange, bergamot, pine nuts, green olives.
Gresa Blanc 2010. Vinyes d'Olivardots Garnatxa Roja, Garnatxa Gris i Carinyena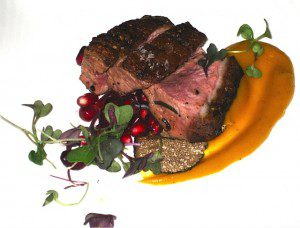 Blanca, D.O. Empordà
Turbot or sea bass with beans and Arbequina olive oil with toasted pine nuts, rosemary.
Flor de Garnatxa 2008 Garnatxa Blanca Celler la Bollidora, D.O. Terra Alta
Belly of lamb with mint, cumin and parmentier of sheep cheese
Ex Ex 7 Monastrell Castillo de Perelada, D.O. Empordà
Duck Magret (Duck breast) with pomegranates, sweet potatoes, truffles
Pinord +7 2007, D.O. Priorat
Beef filet with five pepper sauce
1780 Castell del Remei 2005, D.O. Costers del Segre
Loin of deer with venison sauce, cocoa powder and Griottines
Lo Piot 2004 Cesca Vicent, D.O.Q. Priorat
Sweet veal cheek with truffle and mushrooms
Mas La Plana Gran Coronas 1988, D.O. Penedès
Dessert of chocolate with different textures with violet jam and blackberry sorbet
Teresina Piñol Negre 2009, D.O. Terra Alta
- bonnie
Follow @BonnieBOTB
Rate This Product
Mouseover the crowns to highlight your rating and then click to record your rating. The rating shown is the average of all the user votes. You can only rate each product once.
Leave a Comment or Write a Review
Posting Policy
Bite of the Best encourages our readers to comment on and review any products that we write about. Please express your opinions in a mature and civil tone of voice. We will not post rude or otherwise inappropriate material on Bite of the Best. We look forward to your comments and reviews!