On our way to catch one of the final performances of the rock opera Murder Ballad about love, lust and betrayal by playwright Julia Jordan and rock singer/songwriter Juliana Nash, at Union Square Theatre, we stopped for a meal at City Crab & Seafood.
The bright, citrusy Vermentino, La Cala, Sardinia, Italy, 2011 ($42) with some minerality, worked well with our choices. We began with three tiny toasted mini buns filled with fresh, succulent lobster ($12). A perfect appetizer, which I'd recommend if you go.
The fresh and satisfying Farmers Salad ($14) contained fresh local greens, grilled asparagus, poached pear batons, goat cheese and julienned carrots all lightly dressed in a vinaigrette although it was not as the menu described. Meaning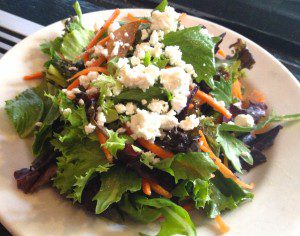 we couldn't taste the blood orange in the vinaigrette nor was there any of the menu-promised fresh kale. All fine, we just felt the waiter should have mentioned the changes.
With restaurant's name, my expectations were high for the ordered Maryland lump crab cakes ($32.) But in comparison to the all-crabmeat ones at Vic and Anthony's and Mortons, these were less than stellar. We asked for the creamy imperial sauce and red pepper coulis on the side, and were glad we did.
– bonnie
City Crab & Seafood Company
Gramercy/Flatiron
235 Park Ave South
(at 19th Street)
New York, NY 10003
(212) 529-3800