Vic & Anthony's is one of those classic top-notch steakhouses, with elegant plush leather chairs, dark woodwork, an extensive wine list and an extensive ala carte menu.
I was invited to sample that menu that includes goodies such as USDA Prime grain-fed Ribeye, New York strip, porterhouse and filet mignon plus live Maine lobster tail, Alaskan king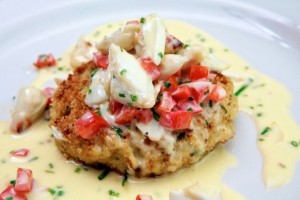 crab legs, pepper crusted tuna and lots lots more.
While perusing the menu, knowledgeable wine director Michael Metzger offered to select our wine from their sizable list. He chose a 2008 Gevrey-Chambertin, La Perriere from the Cote de Nuits region of Burgundy — a beautiful red with silky tannins.
So much good food to try that it was hard to decide. We started with the amazing not-to-be missed crab cake ($19.95), with so little binder that it falls apart into all-meat chunks – as you begin to eat it — all in a butter sauce. Next we shared as an app the Australian cold water lobster tail, first presented to the table whole, then removed and sliced into medallions served with "drawn" (clarified) butter. Heavenly.
Salads chunks of golden and red beets atop goat cheese chevre($9.95) in the beet salad while a huge pear and saga blue salad with candied pecans, tiny teardrop tomatoes was served in a light creamy vinaigrette ($11.95). Both worth sampling.
The only miss was the night's composed plate special consisting of flank steak topped off with house made chimicurri sauce served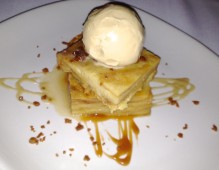 with chipotle mashed potatoes, and serve with fresh pico de gallo. The meat was over marinated and quite mushy.
But perfectly cooked were the hearty portion (a rack) of BBQ ribs and fries, where the meat fell right off the bone ($24.95). Finger lickin' good!  To add some veggies, we ordered steamed green asparagus ($9.95) and Brussels sprouts ($7.95), both were ample enough to serve a few diners.
We had decided to pass on dessert, but both the manager and our waiter drooled when describing the croissant bread pudding served with warm caramel and bourbon sauce, topped with crunchy English toffee and house made dulce de leche ice cream. Don't miss it, but do share as it's a generous portion.
– photo credit of crabcake, Landry's, Inc.
– bonnie
Vic & Anthony's Steakhouse
Gramercy/Flatiron
233 Park Ave South
Manhattan, NY 10003
212-220-9200