Got at least $500 to throw away and really want to make it rain? Well, you've still probably got nothing on Zane Lamprey, who just happen to set the world record for Champagne sabering during the most recent Superbowl. In fact, Lamprey not only broke the record – he shattered it!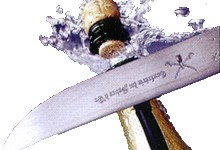 As part of the annual Celebrity Beach Bowl festivities, Zane Lamprey, the host of HDNet's "Drinking Made Easy," set a new world record by opening 31 champagne bottles with a saber in less than one minute. The stunt was taped live and in 3D by DIRECTV film crews on Super Bowl 'Saturday' in Dallas, Texas.  Lamprey destroyed the previous record of 27 bottles.
Champagne sabering is a rather bizarre method of opening a champagne bottle. The process involves a long saber (sword) instead of simply popping the cork.  The record-breaking turn can be seen here.
-bryan