CITY EDITIONS
March 1, 2013
After the Superbowl, my mouth watered for a taste of the Big Easy. So we headed to Bourbon Street Bar & Grill a few blocks from the theatre after seeing Ethan Hawke in a modern-day production Clive, Bertolt Brecht's first full-length play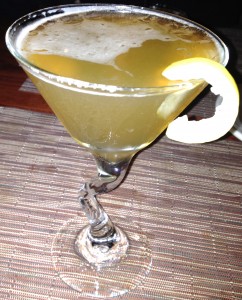 "Baal," (written in 1918 when Brecht was a 20-year-old university student).
The NoLA drinks exceeded our  expectations. The Vieux Carre (pronounced voh-care-eh) — a drink created in the 1930s at the Hotel Monteleone was named after the French Quarter ("old square") — was a smooth blend of Rye Whiskey, Cognac, Sweet Verm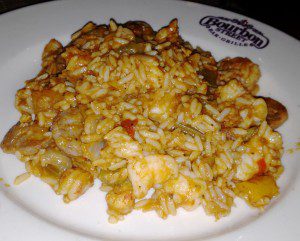 outh and Benedictine with a dash of bitters. The classic Sazerac ($10) — the  signature beverage at the Sazerac Coffee House, a cocktail from the early 1800s when Cognac first used in mixed drinks — is a perfect blend of Rye Whiskey, sugar, bitters and a splash of absinthe.
The food, though, was merely okay. We sampled the Cajun Jambalaya ($24), a hodgepodge of andouille sausage, chicken,  crawfish and shrimp in a seasoned rice with onions, peppers, celery, garlic and seasoned rice in need of more seasoning. An, we tried  a surprisingly tasty Shrimp Creole (the dish I'd recommend) with shrimp, peppers and onions in a flavorful tomato-based sauce over white rice ($22).
Bourbon Street Bar & Grille
346 W 46th St
New York, NY 10036
(212) 245-2030
www.bourbonny.com/

Rate This Product
Mouseover the crowns to highlight your rating and then click to record your rating. The rating shown is the average of all the user votes. You can only rate each product once.
Leave a Comment or Write a Review
Posting Policy
Bite of the Best encourages our readers to comment on and review any products that we write about. Please express your opinions in a mature and civil tone of voice. We will not post rude or otherwise inappropriate material on Bite of the Best. We look forward to your comments and reviews!