Oustanding products we've tried and recommend
September 29, 2014
What it is: Chef, restaurateur and cookbook author
Category: Guest foodie


---

Click HERE to see what we have to say...
Food news, restaurants, local events and more...
SHARE raised $450K at the Annual Benefit - September 24, 2014
Earlier this week, leading women of stove, stage, screen and publishing united to share their support for breast and ovarian cancer fighters a…
Cafe Artiste, Dinner with Cosimo, Spring Lake, NJ - September 24, 2014
We had no clue that the town of Spring Lake (NJ) would have little to no food offerings Sunday evening at a reasonable Manhattan dining time. So wh…
Banana Festival, Port of Hueneme, CA - September 14, 2014
Go Bananas' on the scenic grounds of the Port of Hueneme (105 East Port Hueneme Road) during the Banana Festival, Saturday, September 27, 201…
May 1, 2014
Make the freshest, fizziest sparkling water at the touch of a button. No more lugging or storing bottles and cans from the store. No more empties to recycle or dispose of. You control the fizz.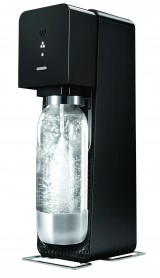 Every two months 1 winner will be chosen at random to receive a receive a SodaStream Source Starter Kit in choice of white or black. Retail Value $99.95. Only available in the US.
You need to enter every other month for a chance to win!
To enter, just click the "Take a Chance" link below — a link that you'll see only if you're signed in as a registered user.