Oustanding products we've tried and recommend
September 15, 2014
What it is: Cookbook Author/Food Writer
Category: Guest Foodie


---

Click HERE to see what we have to say...
Food news, restaurants, local events and more...
Banana Festival, Port of Hueneme, CA - September 14, 2014
Go Bananas' on the scenic grounds of the Port of Hueneme (105 East Port Hueneme Road) during the Banana Festival, Saturday, September 27, 201…
Folks Klub ALA, Riga, Latvia - September 11, 2014
Ask Riga's locals where they prefer to dine in touristy Old Town and they will point you in the direction of Folks Klub ALA (. The subterran…
Oven-Roast Mushrooms - September 2, 2014
Earlier this summer I received some organic mushrooms from the farmers from Shibumi, a Princeton, NJ farm, selling their goods at the Andaz Wa…l
May 1, 2014
Make the freshest, fizziest sparkling water at the touch of a button. No more lugging or storing bottles and cans from the store. No more empties to recycle or dispose of. You control the fizz.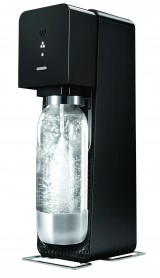 Every two months 1 winner will be chosen at random to receive a receive a SodaStream Source Starter Kit in choice of white or black. Retail Value $99.95. Only available in the US.
You need to enter every other month for a chance to win!
To enter, just click the "Take a Chance" link below — a link that you'll see only if you're signed in as a registered user.