Oustanding products we've tried and recommend
July 18, 2016
What it is: Chef, restaurateur, author
Category: Guest Foodie


---

Click HERE to see what we have to say...
Food news, restaurants, local events and more...
Juliette Restaurant, Williamsburg, Brooklyn - July 9, 2016
When a friend came in from Connecticut to visit one beautiful spring day, we decided to walk to and from Brooklyn…
across the Williamsburg Bridge
Romagna Ready 2 Go, Greenwich Village, NYC - July 7, 2016
The publicist for Romagna Ready 2 Go in the village emailed telling me about their new …garden and asking me to come sample the cooking of Chef Lore
Esca, Hell's Kitchen, NYC - June 25, 2016
I was skeptical about dining at another pricey Italian seafood place after my mediocre-meal experience at Marea… the day before. But with Esca r
July 2, 2016
Win a 32-ounce Jamba Quiet Blend Blender with a quiet shield that allows blending without noise unlike traditional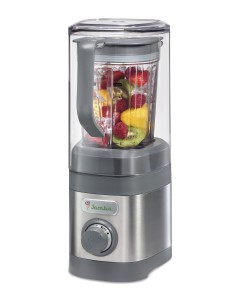 blenders. The 1.6 peak horsepower motor with the pulse function and variable speed control let's you blend, crush, grind, mix, chop and more to make your own smoothies, nut butters and sauces. The blender comes with a 20-ounce flip-top travel cup with its own blade assembly and a recipe book with blending tips and 20 recipes. It has a five-year limited warranty.
Jamba Quiet Blend Blender FREEBIE ends September 30, 2016, at midnight EST when one (1) lucky winner will be selected at random to win the Jamba Quiet Blend Blender valued at $139.99.
The FREEBIE is open only to legal residents of the 50 United States of America, Washington, D.C. (excluding territories and possessions), who are (18) years of age or older before September 30, 2016. Void where prohibited by law.
TO WIN: Post your favorite smoothie recipe. Be sure your email address is listed correctly so we can obtain your shipping address should you win the prize. Only one entry allowed per person.