One of the best things about being invited to a restaurant like Vinateria as their guest is the ability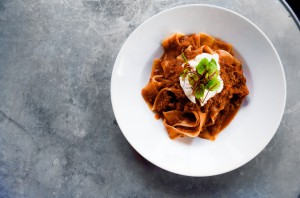 to try more menu items than I could normally eat. We had small — not regular — portions, except for the branzino!
Our fabulous Somm selected wines from their unusual wine list that would go well with the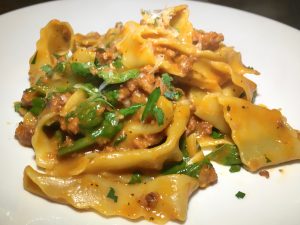 variety of dishes that were to come. The Venetian Contra Soarda (2016) as our white; the Sicilian Masseria Setteporte (2013) as our red.
We started with the tender grilled octopus tentacle accompanied by small potatoes all drizzled with a pimentón aioli ($17), torn Tuscan kale with brown anchovies in the Caesar dressing and whole white ones on top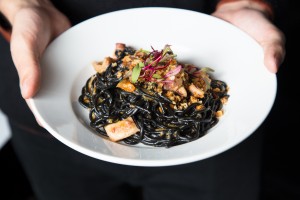 top ($13) and steam PEI mussels in a white wine sauce with thick Texas-like toast ($15)
Don't miss the housemade pasta: the black spaghetti with octopus and toasted breadcrumbs ($21) or the strips of pappardelle with lamb ragú topped with ricotta and a hint of allspice ($19). Also good is the large rigatoni with lamb sausage and
broccoli rabe ($18).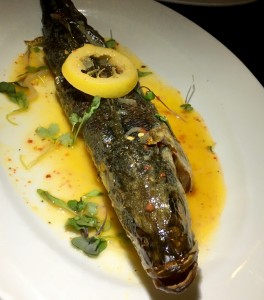 I'd recommend each of the entrees, too: There's a roasted branzino presented whole, but you when you cut into it you happily realize it's been boned and filled with garlic arugula ($26). The Lancaster County Pollo Al Mattone($26) serves up tender bone-in chicken over potatoes whipped with celery root. The perfectly cooked skirt steak ($28) came drizzled with chimichurri sauce and with broccolini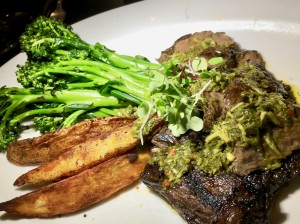 and spears of potatoes so good we wanted more … but were already bursting at the seams.
Even so, we couldn't depart without sampling their olive oil cake ($7) with a Fuji apple sorbet and a fruit medley. We somehow found room for that!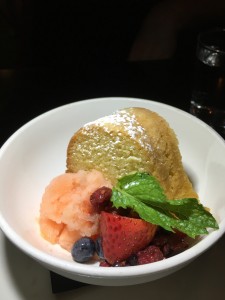 Make a special trip to Harlem to dine at Vinateria.
– bonnie
BonnieBOTB
Follow @BonnieBOTB
Vinateria
Harlem
211 Frederick Douglass Boulevard
New York, NY 10026
(212) 662-8462

Save
Save