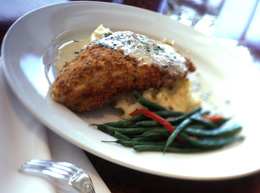 Our evening out in Dallas began with a bang…when we decided to go to Hattie's in Oak Cliff's Bishop Arts District. Blew out a tire on 8th Street about a block from the restaurant, but did the sensible thing that anyone wanting good food would do: left the car to fix later and walked through the rain into the cozy world of Hattie's. Hattie's spare décor, black and white tiled floor, and tin roof instantly makes you feel like you are in New Orleans at Galatoires.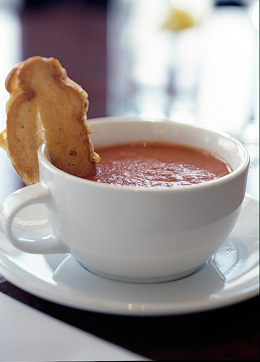 I was craving the pecan-crusted catfish, which did not let me down. Started with a bowl of the lobster bisque ($8.95), with sweet pieces of succulent lobster, slightly tinged with a salty brininess, floating in a pinkish red creamy sauce. Hattie's also serves a hearty tomato bisque ($4.25/$5.95) with a mini grilled cheese on the side, a little touch I've seen at other Dallas restaurants including The Porch, which does a three grilled cheese (port salute, provolone, and aged cheddar) and tomato soup combo. Hattie's house salad of field greens, candied pecans, and tomatoes ($7.95) was good, but not memorable because there was too much maple-balsamic vinaigrette for my taste, which wilted the greens unnecessarily. It would have been better to get the fantastic fried green tomatoes with creamy buttermilk dressing ($7.50) that we had at our last visit, or the four-cheddar mac & cheese ($10.95). Low-country cooking at its finest.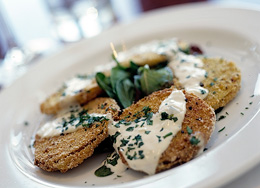 On to the entrees – the pecan-crusted catfish with lemon butter sauce, garlic mashed potatoes and sautéed zucchini, carrots, and green beans ($13.95) was exactly the comfort food I needed after our earlier tire debacle. The seasonal vegetables were not simply garnishes on the plate, but were crunchy and flavorful with a light butter sauce. The catfish was a thick filet with a delicate pecan and toasted breadcrumb topping that was enough for two meals. Our second entrée was also a return engagement from the last visit: the low-country shrimp and grits ($18.50) with goat cheese sprinkles and a Tabasco bacon pan sauce. Now, if you've never had grits with shrimp, you don't know what you are missing. The tanginess of the goat cheese matched beautifully with the grilled shrimp and chewy, al dente garlicky grits. The Tabasco bacon sauce had just the right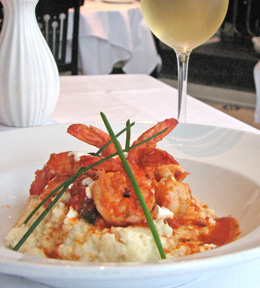 amount of zippy tomato flavor to tie the elements together. Comforting, satisfying food all around, just what we needed, and just what you consistently find at this lovely southern American bistro just five minutes from downtown Dallas.
– special correspondent Stephanie Amsel
Hattie's
418 Bishop Avenue
Dallas, Texas 75208
214.942.7400