At lunch recently at Zinc, we requested to have each of our plates split for sharing. The kitchen was more than accommodating, presenting us with attractive half portions. (So realize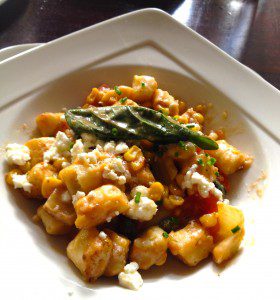 the photos are only half an order.)
For our appetizer, we began with an order of house made feathery light ricotta gnocchi, tossed with fresh feta cheese, charred fresh corn, caramelized fennel, diced tomato and fresh basil ($13). Half a portion was perfect!
Next we shared seared salmon atop green salad with chick peas, paper thin marinated cucumbers, diced avocado and olives in a light tahini dressing ($14).   I'd return for — and recommend — both dishes.
The crisp Laurent Kraft Vouvray from the Loire Valley  ($10 per glass) was a nice match for both.
ZINC Restaurant
964 Chapel St
New Haven, CT 06510
(203) 624-0507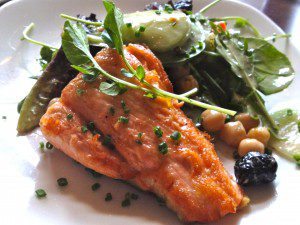 zincfood.com