FREEBIES
Fagor's Induction PRO cooktop is available in beige or copper, features eight user-friendly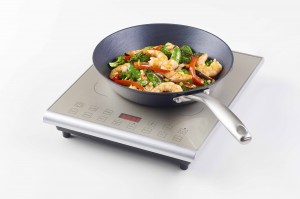 quick launch buttons including warm, simmer, boil, rapid boil, sauté, brown, sear and stir-fry for temperature control; and has a large 12-inch diameter cooking surface.
Induction cooktops utilize 90% of the energy they produce, making it an energy efficient way to cook. A touch button displays a timer, a child safety lock button and the current temperature adjustable in 10 degree increments.
This FREEBIE ends February 28, 2017, at midnight EST when one (1) lucky winner will be selected at random to win the Fagor Induction PRO Cooktop valued at $149.95.
The FREEBIE is open only to legal residents of the 50 United States of America, Washington, D.C. (excluding territories and possessions), who are (18) years of age or older before February 28, 2017. Void where prohibited by law.
TO WIN: Post a comment describing your favorite dish you like to cook using  induction. Be sure your email address is listed correctly so we can obtain your shipping address should you win the prize. Only one entry allowed per person.
Only one entry allowed per person.
You no longer need to  be logged in to take a chance on the Marketplace deals.
Save
Save
You must be logged in to take a chance on the Marketplace deals.
40 Comments on "Win Fagor Induction PRO Cooktop"
krafty9440 Says:


Saute some vegatables.

cheryl larimer Says:


I would make pan fried parmesan crusted fresh walleye. Our new hobby is fishing and I am learning all new ways to prepare this delicious fish.

Gwenelle Says:


I'd love to simmer summertime fresh vegetable soups without a lot of waste heat filling up my kitchen.

LIDARKSIDE Says:


I like to make chicken fried rice.

dolphin143 Says:


Saute mushrooms and onions.

AAAndros Says:


Veggies.

jlafount Says:


Ground beef and beans

Rose Levy Beranbaum Says:


it's perfect for lemon curd!

flasimo Says:


Prime-grade steak using the sous-vide cooking method

nancy360 Says:


Stir fry vegetables

kareuter Says:


I would use it for pastas

imjasonc Says:


Saute mushrooms and onions.

tiffney02019 Says:


These have such controlled heat I would like to slow simmer an old passed down from my Mother spaghetti sauce that need slow and long cooking.

dawnn Says:


I would use it for stir fry and meats

Valerie L Says:


I never made any on an induction

BlueGray Says:


everything from toasted cheese to stir fry tacos!

Jason Says:


I would use it to continue teaching my 4-and-a-half-year-old how to cook! He's already a pro at scrambled eggs

dawnn clark Says:


I could do wonders with this. my granddaughter is becoming quite the cook at 10 yrs. old. to make stir fries and omlets would be so much fun.

Alicia Says:


stirfry and veggie saute's

Frank Gelman Says:


A frittata using leftover Borgatti spaghetti, 2 large organic eggs, Nueske Applewood smoked bacon, scallions and Ronnybrook heavy cream.

Mike Rakiec Says:


Haven't used induction, but I would use it to fry my grandfather's meatball recipe 😀

jrussell1308 Says:


I'd like to use the Favor Induction PRO cooktop to prepare a spicy Chinese stirfry. I can already taste it!!

charpehrson Says:


Kung po chicken stir fry

Ruth Quartuccio Says:


I like to fry any thing using this cook top as the oil will not overheat.

Beth Elder Says:


Shrimp and veggies!

bobbin52 Says:


stir fry veggies.

Hannah Says:


Pan-seared Brussels sprouts!

kafkaesque Says:


I saute vegetables

orchidlady01 Says:


I would cook a pasta dish with tomatoes, olives, capers and fresh basil.

GATORMOM Says:


I would fry fish. Induction is great.

AAAndros Says:


Fish fillet

alzee Says:


I would like to win the induction pro cooktop

rlkraf Says:


Fry fish

mamaconnie Says:


I have not tried induction but would love to win and try it. I would like to use it for chicken stir fry or just veggies. Yum.

chaswade Says:


sesame chicken stir fry

flasimo Says:


perfectly controlled heat for coconut shrimp

granny907s Says:


I would surely make soup. And chili and other winter stews still. I am in the great white north and it's still single digit temps here. Nothing better than soups and stews and fresh baked bread!

alysonroby Says:


I would be spoiled again by my husband….he likely would make scallops with garlic in a marsala reduction. Swoon!

Allan Kracl Says:


I would like to try scramble eggs

bobbin52 Says:


Stir-fry, chicken and vegies.
Leave a Comment or Write a Review
Posting Policy
Bite of the Best encourages our readers to comment on and review any products that we write about. Please express your opinions in a mature and civil tone of voice. We will not post rude or otherwise inappropriate material on Bite of the Best. We look forward to your comments and reviews!