PAST BITE
November 30, 2016
Win a set of two All-Clad 1/2-quart mini stainless steel cocottes with lids. They are 5-inch in diameter, 2-inch deep, come with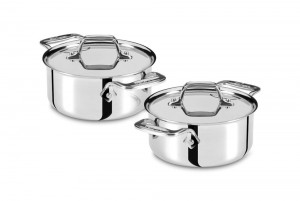 a lifetime warranty and are oven, broiler and dishwasher safe. Use for individual soups, stews, mac & cheese, blueberry crumble, creme brûlée and much more.
This FREEBIE ends January 31, 2017, at midnight EST when one (1) lucky winner will be selected at random to win the All-Clad Mini Stainless Steel Cocottes valued at $69.95.
The FREEBIE is open only to legal residents of the 50 United States of America, Washington, D.C. (excluding territories and possessions), who are (18) years of age or older before January 31, 2017 Void where prohibited by law.
TO WIN: Post a comment describing for what you'd use the mini stainless steel cocottes for. Be sure your email address is listed correctly; we use this only to obtain your shipping address should you win the prize.
Only one entry allowed per person.
You no longer need to  be logged in to take a chance on the Marketplace deals.
Save
36 Comments on "Win All-Clad Mini Stainless Steel Cocottes"
cheryl larimer Says:


If I had these two cocottes, I would make myself a spinach frittata in one and my husband mac and cheese in the other.

Sandra Says:


These would be great for 2 portions of chicken & rice casserole!

alzee Says:


this would be great for a big roast

alysonroby Says:


I am a spoiled woman. My HUSBAND will be using these and who knows what creative magic he will come up with. Please let me give him a new high quality tool!

jlafount Says:


Steam rice in one. Green beans in the other

Valerie L Says:


I will make some stew

AAAndros Says:


Perfect size to make individual apple crumbles.

Gwenelle Says:


Poached eggs and fruit compote

bobbin52 Says:


I would use them to melt chocolate chips, when baking.

krafty9440 Says:


Melting chocolate

LIDARKSIDE Says:


I would use them to make syrups for ice cream toppings.

Kathleen M Smith Says:


I would use the All-Clad 1/2-quart mini stainless steel cocottes with lid to make French Onion Soup and fruit crisps.

nancy360 Says:


Coconut rice pudding cups

Deacon Maccubbin Says:


Honestly, I have no idea what we'd use these cocottes for. I'm not the cook. But my husband is a very accomplished cook who worships his extensive collection of All-Clad cookware. He swears it's the best cookware he's ever used, and he is very particular about how I wash them and care for them. I don't ask questions, I just do what he says. It's the least I can do to repay him for all the delicious meals he has blessed me with over the past 38 years. And that's why I'd love to surprise him with a pair of these cocottes. I bet HE will know exactly what to do with them!

kareuter Says:


I would love it for little cobblers.

imjasonc Says:


Perfect size to make my apple crumbles

dawnn Says:


I could use them for many things. my favorite would be for rice and vegs

Valerie L Says:


rice and beans

Suzanne Says:


Currently in the market for a small pot!! I found I need something small to warm ups sauces/gravy, tiny amount of leftovers, etc.

BlueGray Says:


Gravy and soup!

granny907s Says:


I am having to cook for only two right now, how perfect these would be, for just the right amount for two! I'd melt chocolate in it, too, how nice to have such a size. It is the one thing I do NOT have yet. I used to have to cook for a small army!

Alicia Says:


mini cobblers, stews, mac and cheese and more, thanks for the chance

charpehrson Says:


Some sort of hearty soup

bobbin52 Says:


turkey soup

Hannah Says:


Seems like the perfect pair to break in with mushroom stroganoff and ribbon noodles.

kafkaesque Says:


I live alone so this is the right size for many foods

orchidlady01 Says:


I would make one serving meatloaves in them.

GATORMOM Says:


I would give these to friends as part of a wedding gift. The two pieces are perfect for two people just starting out.

dolphin143 Says:


Individual potato gratins.

rlkraf Says:


I would make baby meatloaves

Lynda Christian Says:


I'd use them for sauces and maybe soups

Kathy Hogg Says:


I'd use them for making mini-meatloves and macaroni and cheese.

mamaconnie Says:


These would be so handy to make different types of soups – this time of year we eat a lot of soup.

Laurie Emerson Says:


I love making mini stews and soups for my lunch. These are so perfect for doing both.

chaswade Says:


rice pudding

Laurie Emerson Says:


I won these last month and have already received them. I have to admit that I was only thinking of personal sized soups for these when I won them. I found that this is only the beginning! Since owning them I have used them for homemade baked beans, Jambalaya, Corn Chowder and of course beef stew. I have also used them for making my favorite jam and syrups. I love the size as it is so perfect when I do not want to make a family size portion. I do have to hide them though, as friends and family are always eyeing them and saying how much they would love to own some.
Leave a Comment or Write a Review
Posting Policy
Bite of the Best encourages our readers to comment on and review any products that we write about. Please express your opinions in a mature and civil tone of voice. We will not post rude or otherwise inappropriate material on Bite of the Best. We look forward to your comments and reviews!