PAST BITE
October 17, 2011
Bite of the Best is giving away a case of Chobani Champions yogurt — either Honey-Nana or Verry Berry —  this week.
To win: Post your flavor choice here in the comment s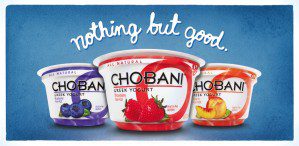 ection of this FREEBIE by noon on Friday, October 21 – be sure your email address is listed correctly so we can contact you for your mailing address if you win.
Winners will be selected at random on Friday, October 21.
This FREEBIE is only a small example of the wonderful giveaways that are constantly taking place on BiteoftheBest.com! Please note that while this giveaway is open to all readers of our site by leaving a comment below, many of our biggest contests are ONLY open to registered users of BiteoftheBest.com. Don't worry, it's FREE to register.
We hope you enjoyed this small taste of our giveaways, why not sign up now to ensure you're eligible for all our contests! SIGN UP HERE.

28 Comments on "Win a Case of Chobani, This Week Only"
Juliana Says:


My flavor of choice of peach.

Bonnie from BiteoftheBest.com Says:


Sorry Juliana – Glad you like peach – but the choice of flavors that you can win is either Honey-Nana or Very Berry! Let us know which you'd like IF you win!

Antoinette Valenta Says:


I LOVE HONEY-NANA!!!! crossing my fingers that I win!

jennifer57 Says:


very berry !

Julie Wesson Says:


I am trying to be rid of this site….somehow, some way, I will stop getting emails from you….I am done…..

tvcollector Says:


I would love very berry

Naomir5 Says:


I would love to win the very berry. It sounds so yummy and I love all kinds of berries

Darryl K Says:


Very Berry for me!

TampaBookWorm Says:


My daughter loves yogurt and would love to try the Very Berry!

Pamala Reed Says:


LOVE the nana honey!!!!!! I NEED IT!!!

christine24 Says:


I like the honey-nana best!

debby14 Says:


I'd like the very berry

wicker77 Says:


Verry Berry would be my favorite.

chaswade Says:


I would like the very berry

Anjanettesflavor Says:


Love the greek!

cskarlupka Says:


Verry Berry.

fabianow106 Says:


I like them all. The blueberry is my least favorite though.

cubhill Says:


gotta love the very berry

vbeetle Says:


Would love to win the Very Berry Chobani, good luck to all!

Diane Says:


Love them all, but honey nana sounds great.

timmar68 Says:


I'd love the very berry, although the honey-nana is intriguing…

rosalba Says:


Very Berry is my choice

vvwoman Says:


prefer very berry!

karen Says:


Honey nana!

Linda K Says:


Oooh… Verry Berry!!

nicolina Says:


Verry Berry

mayaqt Says:


Very berry!!!

baderman Says:


My choice would be Very Berry!!
Leave a Comment or Write a Review
Posting Policy
Bite of the Best encourages our readers to comment on and review any products that we write about. Please express your opinions in a mature and civil tone of voice. We will not post rude or otherwise inappropriate material on Bite of the Best. We look forward to your comments and reviews!