Remembering the smooth, rich and creamy chicken liver pate that I sampled at the opening party of Whitman and Bloom last fall, I had to order it. It's served in a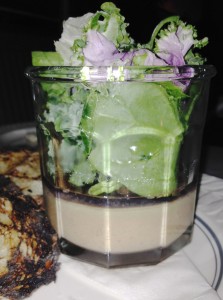 jar with layer of the creamy chicken liver pâté, topped with lots caramelized onion, sealed with a berry marmalade, topped with salad and served grilled sourdough bread ($14). That dish alone is worth the trip to this rustic restaurant with an American menu with a slight Mediterranean touch. It's fun food for sharing, with prices that won't break the bank.
Also not to be missed is the half-head of roasted cauliflower with a soft marjoram scented cheese ($9), housemade from Greek yogurt, whole milk and citrus zest.
Their flatbreads have interesting flavor combinations, yet the dough is much thicker than I recall from their opening party. Still a great bar bite. We sampled the Brussels sprouts with aged Gouda and red onion, enjoyable but a I'd prefer a lighter cheese over the sprouts  and thinner crust.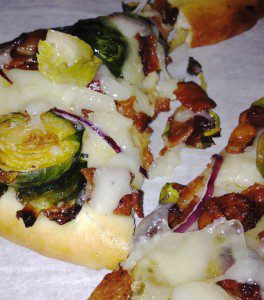 The chilled romaine salad with red onion and sliced radishes in a very light anchovy dressing ($9)  is a nice palate cleanser before the main course.
We opted for the pan-seared skate — with an eclectic blend of seasonings —  served with roasted sweet potatoes, caramelized fennel and a tarragon brown butter ($22)  and the evening's special of braised lamb shank with glazed pear spears, sweet and sour red cabbage and polenta ($23) in red wine jus ($23).
The complex, medium-bodied Spanish Rioja ($54)  – a tempranillo/granache blend – Cerro Anon Reserva, 2008, with tones of cherry and hints of cedar worked perfectly with our food choices, especially the bar bites, which is what I think makes Whitman and Bloom special.
– bonnie
Whitman and Bloom
(Murray Hill,between 27th and 28th Street)
384 3rd Avenue
New York, NY 10016
whitmanandbloom.com
@whitmanandbloom