They did it again; this time the Franco-Camachos opened their newest hot spot — Waterhouse Oyster Bar and Bistro — on Main Street in Branford adjacent to Tacuba. (That's their taco bar serving Mexican street food.)  If you live in the New Haven area, you know this creative pair — they're the one's who I credit for elevating the New Haven dining scene when — in 1999 — they opened the now-defunct Roomba.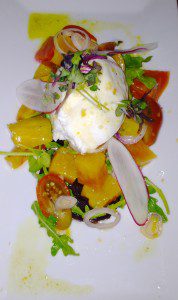 Love the simplicity of the bright white walls and sliding glass windows of this nautically themed restaurant where you'll find a raw bar and lots of fresh seafood entrees.
You'll start your meal with their freshly made popovers. We tried their twist on the classic iceberg salad with baby iceberg halves, thinly sliced red onion, radish and carrots, and heirloom tiny tomatoes in a blue cheese dressing topped with a crisp bacon slice. ($9). Also amazing is the roasted red and golden beets with Liuzzi creamy burrata in a walnut dressing ($10).   And fry-lover me couldn't resist ordering pomme frittes with a malt rosemary dip and ho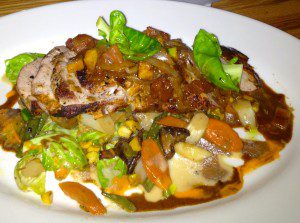 usemade ketchup ($5).
We nibbled those while perusing the entree choices and  sipping a crisp Austrian Grooner Gruner Veltliner ($21).  Waterhouse's wine offerings are quite reasonably priced at about $20 – $35 a bottle.
We tried the evening's special of harissa-rubbed and marinated pork, perfectly cooked ($25) with an apple cider reduction, roasted Brussels sprouts mixed vegetables with a side of home made sweet potato fries.  And also — a chilled half lobster ($14).
I highly recommend Waterhouse!
Waterhouse Oyster Bar and Bistro
1209 Main Street
Branford, CT 06405
(203) 208-0423