With my walk over the Manhattan Bridge to eat at the Vinegar Hill House near the waterfront in Brooklyn, I finished what I termed my "bridge trifecta," now having walked to Brooklyn across the each of the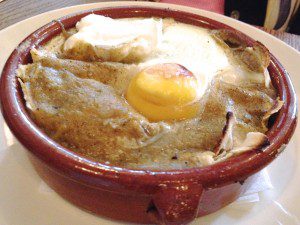 East River bridges. 
I was expecting a bit upscale restaurant, as my walking-friend had spoken about it for so long and it was hard to get a reservation. It is anything but. Vinegar Hill House, a small approximate 40-seat restaurant, is what I've found to be — like many over-hyped  Brooklyn places — nothing special. It's a small neighborhood restaurant with tiny tables, inexperienced servers with attitude and okay food.
I tried the green enchiladas with Jack cheese, covered in tomatilla sauce and topped with an egg ($12) with maple glazed bacon ($5). The enchiladas were fine, the bacon undercooked. We sent it back and it returned with the sugar burnt and  still undercooked.
Although the food wasn't memorable, the walk across the East River was and that's what I'd recommend
– bonnie
Vinegar Hill House
(in DUMBO  at Water Street)
Brooklyn, N.Y. 11201
Vinegar Hill
(718) 522-1018
vinegarhillhouse.com