I was amenable when a friend suggested we stop by the Village Pizzaria on the bay on Coronado island for a light lunch.  I realized I was in trouble when I ordered the Marlborough Sauvignon Blanc listed on their menu and they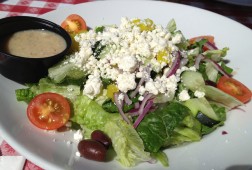 served a California one without mentioning it. (Yes… the waitress did just poured the wine, never showing us the bottle nor giving us a taste!)
At least the anemic Greek salad was edible with crisp lettuce, red onion, a couple of kalamata olives, some banana peppers and cucumber chunks all sprinkled with feta cheese in an ordinary Greek vinaigrette ($10.99).  The chicken parmigiana sub sandwich was so overcooked that it was inedible ($10.99).
The only positive thing I can say about the Village Pizzaria Bayside is its magnificent view.
Skip this place for sure!
Village Pizzeria
Coronado
1201 1st St #5
Coronado, CA 92118
(619) 437-0650