Happy birthday to Victor's Café, New York's oldest Cuban restaurant! It's celebrating the big 5-0 this year.
I visited earlier this summer as their guest – and sampled both their classic and nuevo (healthy) Latino Cuban cuisine. Our waiter Armondo helped us to experience it all.
I started with Victor's Signature Mojito made with Atlantico Rum, fresh lime juice, sugar cane, simple syrup and lots of fresh mint leaves ($14). I recommend.
As we were perusing the menu, we were served warm, freshly made plantain chips with a flavorful cilantro sauce and their lulu sauce, made from peppers (including piquillo peppers) and a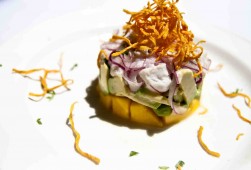 touch of heat from habanero peppers. I would have preferred the lulu sauce a bit spicier.
We started with Empanada de Yuca Rellena con Langosta ($16) cooked lobster combined with sofrito in a savory cassava turnover. Tasty but a bit too much dough, and too little lobster. But what's not to be missed is the delicate Ceviche de Pargo ($16) Florida red snapper marinated with lime, onions, and garlic with chunks of sweet mango and avocado all topped with irresistible crispy juilienned sweet potato strips.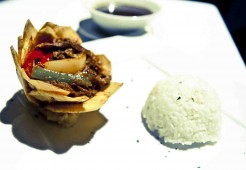 We then cleared our palate with a Ensalada Mixta con Pera, Queso, Manchego y Vinagreta Amontillado  ($14), an interesting mixed green salad with Asian pear, Manchego cheese, and baby candy-cane beets — all tossed with a flavorful amontillado sherry vinaigrette.
We couldn't decide between the two beef signature dishes, so the kitchen kindly served us half portions of each. The Cuban quintessential Roja Vieja ($26 for the full portion) shredded Black Angus skirt steak simmered in garlic, tomatoes, onions, and peppers nestled in a plantain basket plus a half portion of Vaca Frita al Mojo Agrio ($26), crispy shredded Black Angus skirt steak sautéed with onions and laced with tangy Seville-orange mojo. I preferred the tender Ropa Vieja.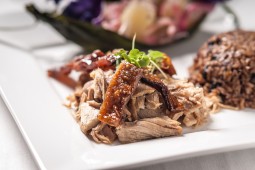 We were also served a portion of Lechon Asado al Estilo del Puerto Boniato con Moros y Cristianos ($26). That's Victor's tender roast suckling pig — from a 45-pound animal cooked in house and marinated in sour orange, olive oil, garlic and herbs. It's accompanied by yuca in a garlic mojo and Moros y Cristianos, Cuban black beans, rice and a bit of bacon. After sampling, this became my favorite of all the meat dishes. Don't miss it.
The pan-seareard red snapper Pargo Miralda ($36) fillet came served over fire-roasted pimentos and onions, also with rice and beans. Nicely done. As accompaniments, we couldn't decide between the crispy fried green plantains with a fragrant garlic mojo ($8) and the sweet plantains ($7). We tried both, with the sweet one our fav.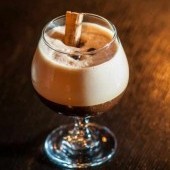 We were stuffed, but Armondo insisted we sample dessert and Viticos ($11), my new favorite Cuban after dinner drink, consisting of Voli espresso vanilla vodka, a shot of espresso, a splash of blue agave  all garnished with espresso beans.
Desserts included the Churros con Tres Salsas ($11) Cuban-style doughnuts sprinkled with cinnamon sugar, served with three sauces: chocolate, dulce de leche and condensed milk. Also a trio sampler ($12) of Guayabitas de Maria (fresh baked warm guava cobbler with a rich buttercrumb topping), Arroz con Leche (cinnamon and vanilla scented creamy rice pudding scented) and Flan de Huevo (a traditional Cuban-style egg custard with a light caramel sauce). But the one not to be missed it their decadent and seductive Bombon Cubano, a hot molten chocolate lava cake filled with warm bittersweet chocolate ganache, served with creamy coconut ice cream. Heaven.
– bonnie
Victor's Cafe
Midtown West
236 W 52nd Street
New York, NY 10019
(212) 586-7714