TIDBITE
November 1, 2012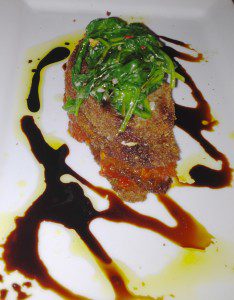 Victoria's Bistro was the most convenient place to dine on Block Island, as it was in the Spring House Hotel, a Victorian-style inn, where we stayed.
We sampled their unusual fried eggplant "Napoleon," layered with herb ricotta cheese and garlic roasted tomatoes, topped with wilted spinach and drizzled with basil oil ($10). The tender grilled calamari sat atop a garlicky broccoli rabe and sausage saute and a chickpea puree, all drizzled with a smoked paprika oil ($11).
Our spinach salad had thinly sliced pear, lots of walnuts and Gorgonzola cheese, in a light refreshing pomegranate vinaigrette ($9).
Seared diver scallops were cooked just right, but — for the price of $27 — should have at least had lots more of the spaghetti squash and roasted Brussels sprouts.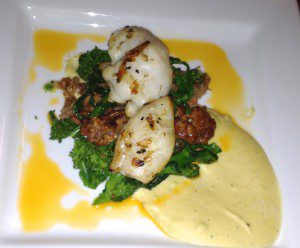 The citrus walnut butter complemented the flavor of the scallops.
We also shared a crisp crust 12-inch Federal Hill pizza with their house made tomato sauce, mozzarella cheese, fresh basil and half pepperoni/half sausage ($14).
I'd recommend Victoria's Bistro at the Spring House Hotel for a light bite or full dinner.
Victoria's Bistro at the Spring House Hotel
52 Spring Street
Block Island RI 02807
(401) 466-5844

Leave a Comment
Posting Policy
Bite of the Best encourages our readers to comment on and review any products that we write about. Please express your opinions in a mature and civil tone of voice. We will not post rude or otherwise inappropriate material on Bite of the Best. We look forward to your comments and reviews!