About a week after Hurricane Sandy devastated the Northeast, I found myself in a diner on 21st and 1st, one of the few establishments that managed to obtain produce the day after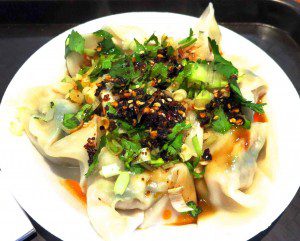 power was restored to lower Manhattan.  I was sitting next to some frustrated restaurateurs including Vanessa Weng — owner of the famed Dumpling House in Chinatown that my former dumpling-crazed Chinese attorney colleague spoke of with salivating fervor. They were lamenting over food shortages, the onslaught of hungry mobs in their doorway once the lights came on and the art of the dumpling.
I decided it was time for a visit to the house that dumplings built.
It's difficult for Manhattanites to imagine a good meal for less than $5.  In Chinatown however, you enter a backwards economic vortex where something fresh and delicious can be had for a pittance. The handmade plump Spicy Wonton Dumplings ($4 for eight dumplings) are stuffed generously with shrimp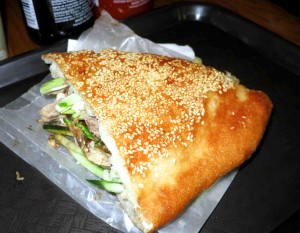 and pork, doused with a "spicy" sauce and topped with chives, sesame seeds and crushed red pepper. South of Broome Street spicy means something edible laced with searing hot masochism. Even blazing, the dumplings are a masterpiece of inexpensive scrumptious fare.  The key ingredient, according to Vanessa, is the expensive Japanese sesame oil. Some of her former protégés, turned competitors, have tried to cut out the sesame oil and their overhead by relying on fatty meats to add flavor resulting  in something appallingly inferior.
Once my taste buds recovered, I followed Vanessa's recommendation for the Sesame Pancake Peking Duck Sandwich, a delicious confection of duck, hoisin sauce and sliced cucumber ($2.50) –  a real sandwich, not some wafey Soho-sized finger food.
Vanessa Weng embodies the successful Asian immigrant retail operator in New York; a militant kitchen commander masqueraded by a big genial smile. According to her partner, Neal Glaser, Vanessa's ruthless management style is the force behind the enduring quality of Dumpling House. He also claims Vanessa is responsible for introducing the dumplings to the West. She's too modest to accept that accolade, but Vanessa readily acknowledges her exacting disposition and the supremacy of her dumplings in New York City. I can't disagree.
Special correspondent James O'Donoghue
Vanessa's Dumpling House
118 Eldridge St
(Btwn Grand & Broome St)
New York, NY 10002
(212) 625-8008