TIDBITE
April 29, 2009
A secret for those who like to dine early (before 6) or late (after 9) and live in the New Haven area:  Twenty of the city's top restaurant offer a See, Sip and Savor fixed price three-course ($29) menu year round. Union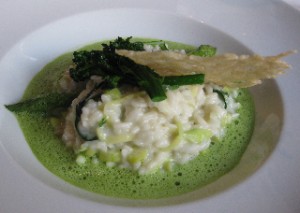 League Cafe, offering contemporary French cooking, is one of them.
Recently, I dined with a friend who wanted to meet before six, so we requested the pre-theater (as it's also called) menu. Union League Cafe offers a version of the menu that includes suggested wines for $49. We opted instead to enjoy a bottle of Cour Cheverny Francois Cazin 2007, a crisp wine, with a light mineral finish.
But before popping that cork we sipped Lillet Blonde (my favorite French aperitif) while nibbling the chef's amuse bouche of gougere (savory choux pastry with cheese).
With the soup on the pre-theater menu unavailable, so we were offered an asparagus and leek vichyssoise, replete with just enough paper-thin asparagus to give it an interesting texture.  I followed that with a roasted vegetable risotto with more asparagus, some brocolini, spring garlic and zucchini over an asparagus coulis and topped with a parmesan crisp. Perfectly prepared.
We tried both desserts. The hands-down most delicious is the Tahitian vanilla creme brulee. All with attentive service.
Union League Cafe
1032 Chapel Street
New Haven, CT
203.562.4299
Leave a Comment
Posting Policy
Bite of the Best encourages our readers to comment on and review any products that we write about. Please express your opinions in a mature and civil tone of voice. We will not post rude or otherwise inappropriate material on Bite of the Best. We look forward to your comments and reviews!