UBK is a new Hudson Square neighborhood restaurant featuring hints of Mexican, Asian, French and — of course — American foods on the contemporary menu.
I began with the geisha ($13), a refreshing blend of herbaceous lemon vodka muddled with
cucumber and strawberry and blended with lemon juice and a splash of sparkling wine.
Having been invited to sample their fare, I tried many items. For appetizers, we nibbled their unusual pork belly sliders, called the three little pigs ($16). One is their version of a reuben sandwich with Swiss cheese, sauerkraut and chipotle bernaise sauce; another with pickled beets, braised fennel and a mustard tarragon sauce, and one with BBQ sauce, homemade avocado slaw with fresh jalapeños.
I highly recommend the three panko fried oyster on the half shell over housemade tartar sauce topped with chili infused tonkatsu sauce and a jalapeño ($9).
Don't miss the hearty portion of the classic San Francisco seafood stew — cioppino. It's a bowlful of halibut, squid, mussels, clams, shrimp and chorizo served in a smokey spicy tomato broth ($26).
Our grilled salmon with crisp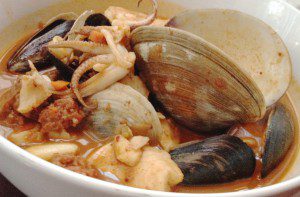 skin was a tad overcooked ($24), but still quite tasty. I would have expected some side (potato or veggie) on the plate for the price.
Luckily we had ordered the grilled veggie platter ($7) and were glad we did. Although the server said it included broccoli, it didn't; but it did contain perfectly grilled yellow and green (zucchini) squash, sweet red pepper, green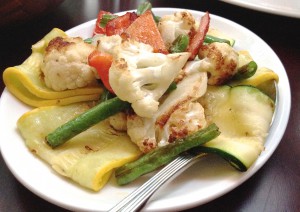 beans and cauliflower.
I was indulged in many of their desserts including their homemade white mint ice cream ($7) which was a perfect foil for the spicy ancho chili moist brownies ($8).
Also good are the peanut crunch chimichangas topped with housemade vanilla ice cream ($10). I wasn't as fond of the banana chocolate empanadas also with vanilla ice cream, as it was too much breading for me.
– bonnie
UBK (Union Bar & Kitchen)
West Soho / Hudson Square
300 Spring Street
New York, NY 10013
646.755.9034