This hearty Red Lentil Soup is served at the Turkish Kebab House, 1157 Campbell Ave., West Haven.  Manager Yavuz Demir provided Chef Seyfetin Caylan's recipe to Stephen Fries, who kitchen-tested this recipe.
Red Lentil Soup
1-pound package red lentils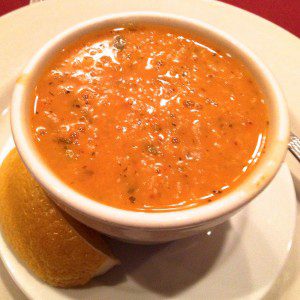 1 medium carrot, shredded
2 medium onions, chopped
9 cups water, divided
3 tablespoons olive oil
1 tablespoon butter
2 tablespoons flour
1 tablespoon tomato paste
2 teaspoons dried mint
1 teaspoon salt
1 teaspoon pepper
Lemon wedges
Put lentils, carrot onions and 4 ½ cups water in a large pot; bring to a boil. Reduce heat to medium-low until lentils are cooked, about 30 minutes. Remove from heat; reserve.
In a second pot over high heat, cook olive oil and butter until butter is melted. Lower heat to medium and add flour, tomato paste and mint. Mix well. Add the remaining 4 ½ cups water; bring to a boil.  Add the reserved lentil mixture and return to a boil. Reduce heat to medium-low heat; cook for 20 minutes.  Continue to stir so soup does not become too thick.
Serve with lemon wedges
Serves 10.