Head straight to Tribeca Grill for their lunchtime prix fixe $25 three-course special offered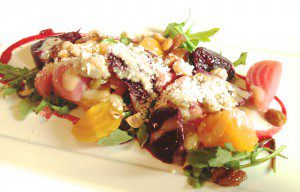 daily. What a bargain!
To accompany our meal, we ordered the luscious gamay – beaujolais domaine combier,'les vignes de don samoël,' chénas 2010 ($37).
Beet lovers will enjoy the baby red and golden beet salad with Asian pear and raisin chutney over arugula, sprinkled with hazelnuts. Missing (or so miniscule that I missed it) was the menu state goat cheese. But we didn't mind as we had ordered the ravioli, oozing with goat cheese and topped with lots of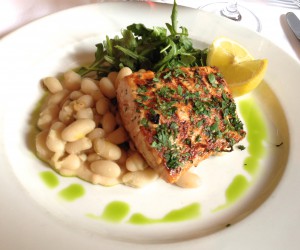 grape tomatoes and some baby spinach. I highly recommend.
Also good is Drew's grilled salmon with olive oil, lemon and fresh thyme. That's served with white Tuscan beans — both whole and pureed — and a little arugula. Simple and delicious.
For dessert we split the Tribeca chocolate cake that's been on the menu since day one. It has three layers of chocolate: bittersweet chocolate cake, dark chocolate mousse and milk chocolate custard; and my favorite (that says a lot from a chocolate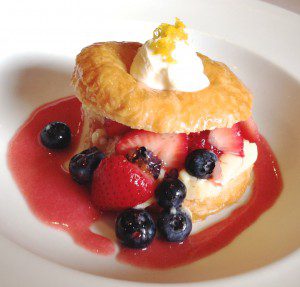 lover), the berry croustillant, with caramelized puff pastry filled with mixed blueberries and strawberries topped with orange blossom cream and lemon zest. Ethereal.
– bonnie
Tribeca Grill
Tribeca
375 Greenwich St
New York, NY 10013
(212) 941-3900