How could I resist? A friend had an extra ticket to Carnegie Hall to hear an all-Beethoven program.
We decided to get a nibble across the street at Trattoria Dell'Arte first. Like most of the partrons, we were trying to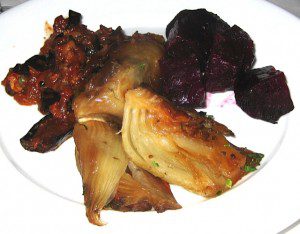 order and eat quickly, and get the the concert on time. Service was accommodating.
Our quick bite included trio of perfectly prepared veggies ($15) from the antipasto bar — caramelized fennel with butter bean honey, roasted beets and Sicilian eggplant capanata — plus an order of house made burrata —  cream filled mozzarella — drizzed with extra virgin olive oil  ($12).  The perfect match for our quick bite: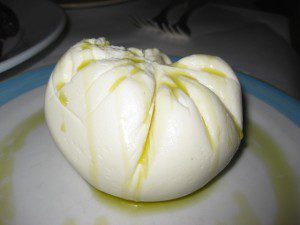 a glass of Gavi 2010 Castellari Bergaglio "Fornaci" Piemonte $16.
The amazing Orchestre Révolutionnaire et Romantique conducted by Sir John Eliot Gardiner spectacularly performed an Egmont Overture; Symphony No. 5 in C Minor, Op. 67; and Symphony No. 7 in A Major, Op. 92.  This orchestra performs using the principles and original instruments of historically informed performance. A concert that brought everyone to their feet for an ongoing standing ovation.
– bonnie
Follow @BonnieBOTB
Trattoria Dell'Arte
900 7th Ave
New York, NY 10019
(212) 245-9800
trattoriadellarte.com