CITY EDITIONS
January 20, 2011
Arturo Franco-Camacho and his wife Suzette have another hit restaurant, this time a gastro pub in the suburban town of Branford, aptly called The Suburban.
If you dine in Connecticut, you know this team from their first hit, the neuvo-Latino restaurant Roomba that changed the New Haven dining scene. Roomba was located downstairs in the alley off Chapel Street in New Haven. People found it and continued to come in droves for the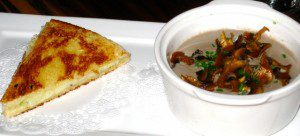 unusual and delicious food.
From there they moved to College Street and with their eclectic Bespoke, continuing with some food their customers came to know and love from Roomba but adding some Mediterranean flavor to their Latino ones.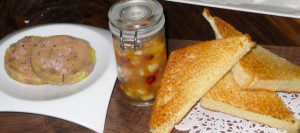 In my book, this husband and wife team literally changed  the food scene in New Haven, elevating it from what was almost a vast wasteland to the hottest food city in the state. The moved out of New Haven to Branford because of continuing problems with their landlord. Dare I mention that it was Yale University.
The meal at The Suburban was delicious.  We started with a delicate mushroom soup topped with mushroom chips and served with a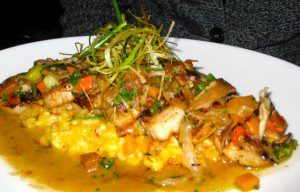 lightly truffled pecorino grilled cheese piece ($12) and also a delicate foie gras torchon with caramelized onion, brioche toast a fall fruit compote of quince, pomegranate and apple ($13)
Then we sampled two entrees not on the regular menu but usually as offered as specials — that is until they've run out. One was  boneless braised short ribs topped with chunk of lobser, served with a celery root puree, an asparagus, and a Choron bearnaise sauce with a touch of spicy chipotle  ($30),  and porcini dusted scallops with a butternut squash risotto and a skiitake pancetta sauce.
Definitely worth the trip over the Q-bridge.
- bonnie
The Suburban
2 East Main Street
Branford, CT 06405
www.thesuburbanrestaurant.com
(203) 481-1414
3 Comments on "The Suburban, in Branford, CT"
Priscilla Says:


We had a wonderful meal at The Suburban a couple of weeks ago and were thrilled to see the review in the NY Times yesterday. The food is flavorful and inventive and I found the use of vegetable refreshing.

Bonnie from BiteoftheBest.com Says:


For those interested in that NYTimes article:
http://www.nytimes.com/2011/05/29/nyregion/bright-spots-at-the-suburban-in-branford-review.html

Darpa Govinda Says:


After saying that it would open again after a hiatus opening the new fast service Tacuba/Swill concept, The owners "sold" The Suburban. It is been turned into an Organic Vegetarian eatery (I'll put $20 on it not being around in a year.

It is probably unfair of me to feel this way, but I feel that a restaurant, especially a good restaurant, becomes part of a community, and that the owners have some responsibility to their clientele.

I was quite dismayed to find that the team has abandoned another restaurant.

I've been to Tacuba but I won't be back – I don't want to be disappointed when that place closes too.
Rate This Product
Mouseover the crowns to highlight your rating and then click to record your rating. The rating shown is the average of all the user votes. You can only rate each product once.
Leave a Comment or Write a Review
Posting Policy
Bite of the Best encourages our readers to comment on and review any products that we write about. Please express your opinions in a mature and civil tone of voice. We will not post rude or otherwise inappropriate material on Bite of the Best. We look forward to your comments and reviews!