Arturo Franco-Camacho and his wife Suzette have another hit restaurant, this time a gastro pub in the suburban town of Branford, aptly called The Suburban.
If you dine in Connecticut, you know this team from their first hit, the neuvo-Latino restaurant Roomba that changed the New Haven dining scene. Roomba was located downstairs in the alley off Chapel Street in New Haven. People found it and continued to come in droves for the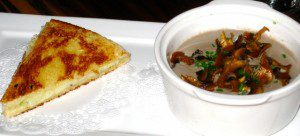 unusual and delicious food.
From there they moved to College Street and with their eclectic Bespoke, continuing with some food their customers came to know and love from Roomba but adding some Mediterranean flavor to their Latino ones.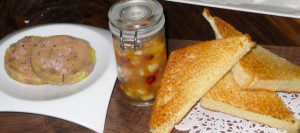 In my book, this husband and wife team literally changed  the food scene in New Haven, elevating it from what was almost a vast wasteland to the hottest food city in the state. The moved out of New Haven to Branford because of continuing problems with their landlord. Dare I mention that it was Yale University.
The meal at The Suburban was delicious.  We started with a delicate mushroom soup topped with mushroom chips and served with a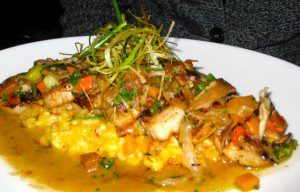 lightly truffled pecorino grilled cheese piece ($12) and also a delicate foie gras torchon with caramelized onion, brioche toast a fall fruit compote of quince, pomegranate and apple ($13)
Then we sampled two entrees not on the regular menu but usually as offered as specials — that is until they've run out. One was  boneless braised short ribs topped with chunk of lobser, served with a celery root puree, an asparagus, and a Choron bearnaise sauce with a touch of spicy chipotle  ($30),  and porcini dusted scallops with a butternut squash risotto and a skiitake pancetta sauce.
Definitely worth the trip over the Q-bridge.
– bonnie
The Suburban
2 East Main Street
Branford, CT 06405
www.thesuburbanrestaurant.com
(203) 481-1414