CITY EDITIONS
November 9, 2011
We selected The Standard Grill in the Standard Hotel, just under the High Line for a breakfast that we knew would turn into a long conference meeting.
I enjoyed a large pot of rich coffee ($4) and my friend tea, ($4)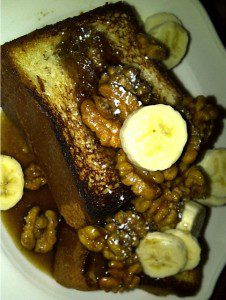 while we looked at the small breakfast menu before ordering a goat cheese and tomato omelet with herb roasted potatoes ($14) and the Brioche French Toast with buttered rum, walnuts and bananas ($12).
The omelet was less than ordinary, begging for salt and pepper to make it even palatable. It came accompanied by perfectly prepared, crispy potatoes plus sour dough bread that — even though I requested it sans butter — came dripping with so much olive oil my hands turned greasy when I picked it up. If that wasn't bad enough, the bread was black as if someone had tossed the slices onto a filthy grill to "toast."
The brioche French toast and buttered rum sauce was without fault, although the beautiful whole walnuts were way too large to easily eat — and didn't cut without splashing rum sauce. The bananas were fresh — but would have tasted better first sauteed in butter-rum sauce.
Service was uneven (I'm being kind!), and ended up downright rude. As I said we were having a business conference, having ordered more coffee and tea to sit and chat.  Oddly —  no, actually beyond rude —  the hostess came over and asked us to leave as, she said, "The table is reserved, we need it."  Might I add that other than the two of us, the restaurant had only a spattering of occupied tables.
Obviously:  Skip this one for sure.
- bonnie
Follow @BonnieBOTB

The Standard Grill
846 Washington St. (at 13th)
New York, NY 10014
(212) 645-4100
thestandardgrill.com
Rate This Product
Mouseover the crowns to highlight your rating and then click to record your rating. The rating shown is the average of all the user votes. You can only rate each product once.
Leave a Comment or Write a Review
Posting Policy
Bite of the Best encourages our readers to comment on and review any products that we write about. Please express your opinions in a mature and civil tone of voice. We will not post rude or otherwise inappropriate material on Bite of the Best. We look forward to your comments and reviews!