The Red Cat is a hidden treasure on Tenth Avenue and about 23rd Street — a good place to go after a seeing nearby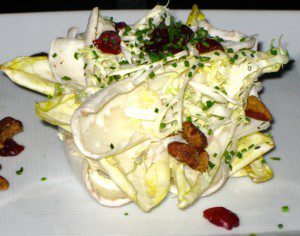 movie, walking along High Line or visiting Chelsea Piers or Chelsea Market. Service is both friendly and superb.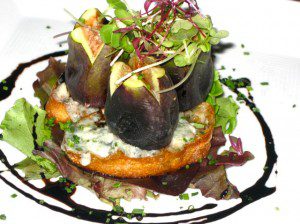 The night we went, we opted to share four appetizers, skipping the entrees.  We started with a lightly and perfectly dressed tower of endive leaves topped with Stilton, dried cranberries and spiced pecans ($12) and figs (sadly, a bit mushy) a top mixed greens and Gorgonzola-topped toast ($12).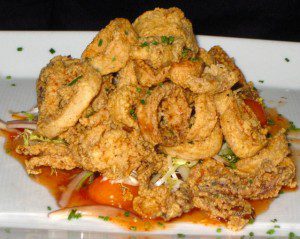 We followed that with crispy fried calamari over frisée,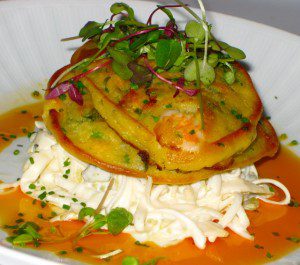 fennel and red onion in a chili vinaigrette ( $13) and corn cakes containing shrimp over a celery root salad, drizzled with chili oil ($14).
I'd highly recommend the endive salad and the fried calamari (although that was the evening's special.
The Grenache/Cabernet "Cal Siscon" 2004, Capcanes (Monstant), $42 – went well with it all.
We did indulge in dessert. A rich and tasty chunky peanut butter ice cream swirl a top puff pastry and dark chocolate mousse, drizzled with clover honey ($9).
– bonnie
The Red Cat
227 Tenth Avenue
New York, NY 10011
212.242.1122
theredcat.com