The Quarter is a small restaurant that opened a couple weeks ago in the West Village on Hudson Street serving, it's a "gastro wine bar" serving international dishes with an American twist. Lucky me, I was invited me to sample their menu offerings.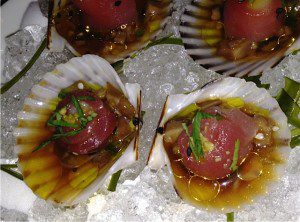 After talking with chef/partner Jason Avery — who hails from Pera midtown — and Hakan Aktas, the managing partner, we opted to try small half portions of many offerings.
I'd highly recommend all but one of the starters we sampled. The rich and slightly chunky smoked tomato bisque comes accompanied by mini grilled brie/brioche sandwiches ($9). His Taylor Bay scallops are wrapped in tuna and accompanied by diced pickled shiitake and cucumber with wasabi and mustard oil ($14) served in a mini scallop shell — just slurp  to enjoy. Do not miss the truly decadent to-die-for Foie Gras Newtons ($13). This fresh foie gras terrine is a play on "Newtons," as it's made in house, layered on brioche with a fig jam compote, between sliced, grilled in clarified butter and topped with sea salt, powdered sugar and more fig jam. Be sure to wash it down with a glass of sauternes.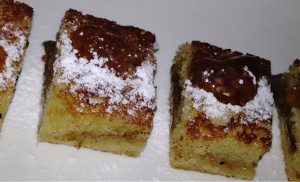 The Portuguese calamari ($13) was inspired by Jason's time at Johnson & Wales culinary school in Rhode Island, where there was a large Portuguese community. It's simply fried squid, linguiça sausages, hot cherry peppers and lemon — all accompanied by a smoked paprika yogurt dipping sauce. He described it as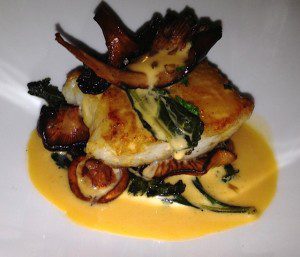 spicy, crispy, hot, cold, crunchy and salty all in one dish. Sadly the fried squid and linguiça sausages were dish a bit overcooked – his only miss of the evening!
He hit it right on with the delicate and flavorful Hake, simply pan-seared with braised kale and chanterelle mushroom all in a lobster chardonnay butter ($22) — and his braised short rib filled with foie gras, green apple and golden raisin chutney and mashed potatoes ($27). As a Brussels sprouts lover, I couldn't resist his side dish of caramelized sprouts ($5)
Be sure to save room for a decadent dessert of a light peanut butter mousse ($8) topped with a rich chocolate ganache, then sprinkled with sea salt. An adult Reese's Peanut Butter Cup.
I highly recommend The Quarter.
– bonnie