I returned to The Bar and The Modern for a light afternoon nibble. I had visited a couple years ago, before I began posting restaurants commentary, and had ranted to friends about the incredible food and service. This time was no different.
The Bar is the less formal space at The Modern serving small plates of rustic Alsatian cuisine. The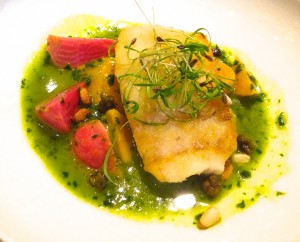 dining room offers a prix-fix menu. Both share Executive chef Gabriel Kreuther's kitchen.
We each just had one perfectly prepared dish with a glass of wine. The Pan-Roasted Long Island Flounder ($24) came with baby golden and red beets, a fennel-saffron puree and a pine nut pistou This paired well with a glass of Gruner Veltliner Hirtzberger ($18) "Rotes Tor," Federspiel, Wachau ($18).
The House made Alsatian Country Sausage ($18) came with sauerkraut and whole-grain mustard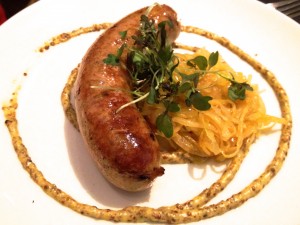 sauce. The heartier Gamay – Domaine des Terres Dorees ($13), Morgan, Beaujolais 2010, worked with that dish.
Although I didn't try it this time, I have to recommend a dish still on the menu that is the exquisite: Slow Poached Farm Egg "In a Jar" with Maine lobster and sea urchin froth ($23). When I sampled this heaven in a jar in spring, it contained asparagus. The menu now mentions hom shimeji Japanese mushrooms. To eat, you break the shimmering egg yolk that then marinates the lobster chunks. Perfection.
Be sure to make a reservation!
The Modern The Bar
9 W 53rd St
New York, NY 10019
212-333-1220