Midtown overflows with places to get a good meal, including The Lawrence where I went on my recent Atlanta visit.
We ordered our wine while perusing the menu. Since they were out of our first two choices, our appetizers arrived before our wine. We ended up with a Gamay, specifically Jean-Marc Bur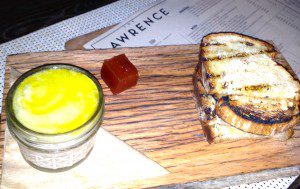 gaud, Vielles Vignes, Moron France ($48), that was light, yet rich enough for our selections.
We started with a light duck liver mousse whipped with port wine and served with quince paste and grilled sourdough bread ($10). Oddly, our server asked if we wanted more bread, we said yes as we still had some mousse leftover. I say oddly,  as he charged us $1 for that!  Also served the grilled sourdough bread was our luscious Maplebrook Farms burrata with marinated roasted red peppers ($10).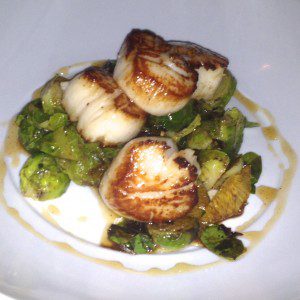 An unusual yet tasty (and pricey) preparation are the four pan-seared scallops atop a chilled salad of Brussels sprouts and clementines with a sherry gastrique ($25). Our other entree was their tender, slow-cooked lamb sandwich served with au jus and a horseradish cream (in need of a heavy dollop of horseradish!). The pomme frites that accompanied it were perfect ($15).
We were so glad we didn't pass on dessert. We  selected the chocolate truffle cake that didn't look very appetizing but was decadently wonderful topped with vanilla ice cream sprinkled with fleur de del.  A real bargain at $5.
I do recommend a visit to The Lawrence.
– bonnie

The Lawrence
905 Juniper St NE,
Atlanta, GA 30309
(404) 961-7177