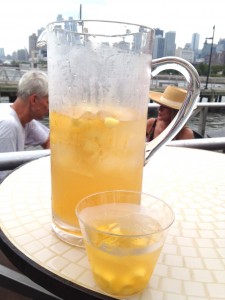 A couple of summers ago my son Eric introduced me to the seasonal Frying Pan located in the water west of 26th Street.  I've been taking both out-of-towners and New Yorkers to this floating eatery ever since. Think a lively bar located in the Hudson River that has music and serves food.
The Frying Pan has no table service. Instead you go to the counter, order and pay for your food and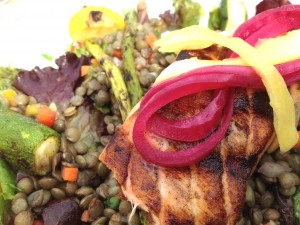 then wait until the buzzer they handed you beeps! Until this last visit, I had told the friends I brought to order carefully: think burger and fries or a simple salad. What you come here for is the fresh air and views of Manhattan.
But I was proven wrong! The kitchen turns out decent food.
We started with a a pitcher of not-too-sweet white sangria filled with diced peaches ($40). Then shared a decent tasting, and not too bready, crab cake on meslun greens ($14). The Farmer's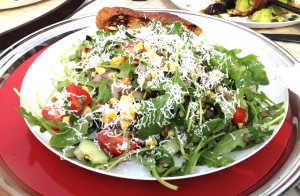 Market salad of baby arugula came tossed with a variety of healthy additions including lentils, carrots, roasted red peppers, corn, tomatoes, cucumbers, red onions, and shaved ricotta salata all tossed in a simple light dressing ($13); so very fresh, just wish there were more of the additions. What amazed us was the perfectly cooked citrus glazed salmon fillet over mesclun greens with served with french lentils-preserved lemons, baby zucchini and grape tomatoes ($16).
I recommend this place highly for fun and decent eats. The Frying Pan is seasonal, open all summers and stays open in the Fall as long as the temperature stays above 70!
– bonnie
Lightship Frying Pan
Pier 66a & West 26th Street
New York, NY 10069
(212) 989-6363