What was I thinking? Brunch at The Coffee Shop at 16th and Unions Square works if you're a millennial looking for a bite, and don't mind deafening noise and mediocre food. I am not!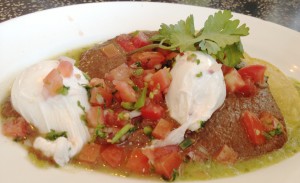 I ordered their version of huevos rancheros, an unappetizing looking amalgam of poached eggs, beans and salsa on a tortilla ($14.95).
My friend had the salad special of two eggs any style with a salad of fresh kale, cauliflower and other veggies that sounded much better than it tasted ($14.95). That was accompanied by toast.
At least the mimosas ($11 each) were tasty!
Would I go back? Not unless I secured an outside table facing Union Square on a nice spring or summer day and just order a drink!
– bonnie
The Coffee Shop
Gramercy/Flatiron
29 Union Sq W
New York, NY 10003
212) 243-7969