Stopped by the Cafeteria Boston for a light lunch recently when on Newbury Street in Boston.
Our server didn't balk when we asked for something not on the menu specifically, although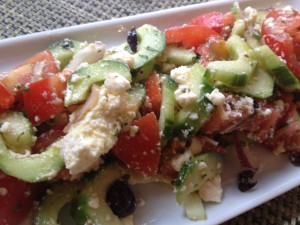 each ingredient was listed within a dish. He brought a side of refreshing hummus with a bowls of kalamata olives and tzatziki ($7).
We also sampled their plump and tender PEI mussels steamed in beer along with  tomato, garlic and chunks of chorizo ($12). The appetizer portion of their Greek Salad was plentiful, with lots of tomato, cucumber and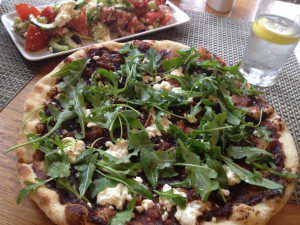 feta, sprinkled with diced onion, all in a oregano vinaigrette ($10)
We opted on an unusual sweet fig pizza, with a crisp crust spread with fig jam and topped with goat cheese, caramelized onions and fresh arugula.  Although the menu listed fresh figs, ours had none ($12).
I'd recommend a stop at the Cafeteria — another place that won't break the bank.
Cafeteria Boston
279a Newbury St
Boston, MA 02115
617-536-2233