After meeting a friend at the clock in Grand Central Terminal, we ended up at The Beer Bar at the northwest corner of the Met Life building as we were just looking for a quick unpretentious bite for lunch.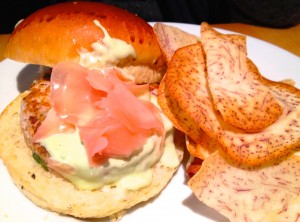 He ordered the Yellow Fin Tuna burger of sushi grade tuna cooked as requested, topped with a very spicy wasabi mayo and sliced pickled ginger served with crunchy papaya salad and lotus root chips ($16.50). I settled on the — un-traditional, but fresh tasting — lobster roll served with fries.  I say not traditional as the roll was a thick hoagie, not a toasted hotdog bun, and instead of just mayo, the lobster was mixed with spicy mayo, diced celery and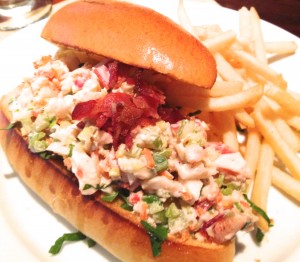 shredded bibb lettuce all topped with crumbled apple smoked bacon ($15.50).
I do recommend The Beer Bar for a quick fresh bite when coming or leaving Grand Central.
– bonnie

The Beer Bar
MetLife Building
200 Park Ave
New York, NY 10166
www.thepatinagroup.com