The 25th annual Taste of Dallas food festival will take place Friday, July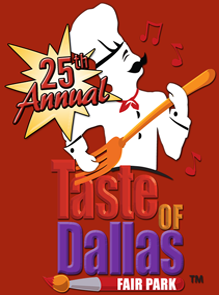 8 through Sunday, July 10, 2011 at Fair Park located on 1200 S. Second Avenue (Grand Avenue) from 4:00 – 11:00 pm Friday,  11:00 am – 11:00 pm Saturday and 11:00 am – 6:00 pm Sunday.  Participants can sample food from dozens of Dallas' best restaurants including Blue Mesa Grill, Bolla Restaurant, Cheesecake Love, and Dickey's Barbeque Pit.
An event for the whole family, the festival will include shopping in the new Taste of Dallas Culinary Marketplace, a Kids Taste Town, and music (stage line up includes Inner City All-Stars, IMAJ, Chad McBride & The Drifters,  Spazmatics and more).
Tickets are $8 at the gate and free for children under $12. For more information, click here.
– guest contributor