For a dramatic vista of Times Square while dining, head to the Novotel New York Times Square's Super Nova restaurant. They serve American comfort food with an Asian accent and unusual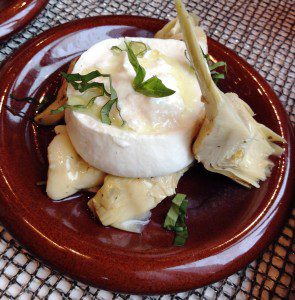 cocktails in a contemporarily designed eating area.
As their guest, I sampled a number of dishes including the rich and creamy burrata served with marinated artichokes, drizzled with lemon oil and garnished with fresh basil($8). Don't miss! Also tasty are the two buns filled with steamed oxtail, kimchee and a scallion tofu sauce ($8). Oddly the chili-fried squid ($8) — although crisp and tasty — wasn't very spicy, neither was the accompaning Korean gochujang hot dipping sauce, which tasted like Hoisin sauce.
For mains, I suggest the seafood jambalaya ($25), attractively served on the plate with a hearty portion of andouille sausage, some spicy shrimp, huge and plump mussels and flavorful rice, reminiscent of New Orleans. Also good are the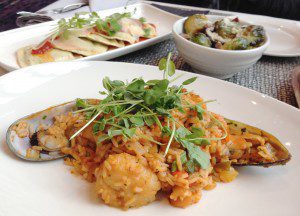 roasted Brussels sprouts with lots of crispy pancetta, all sprinkled with parmesan ($8)
My least favorite was the undercooked (almost raw!) sweet pea ravioli with a flavorful heirloom tomato sauce sprinkled with parmesan ($21).
I'd heard about their partnership with Doughnuttery, a purveyor of "hot, fresh, uniquely sugared treats  served from a "Doughnut Dip Trolley" cart with special sauces for dipping, but sadly none were available when I visited.
I recommend!
– bonnie
Super Nova
Novotel Hotel Times Square
26 W 52nd St
New York, NY 10019
(212) 315-0100