On the ground floor of the trendy W in Fort Lauderdale, is Steven Starr's Steak 954 with similar pulse of the hotel's Whiskey Blue disco: dark and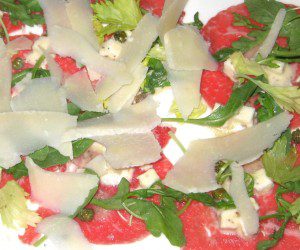 a bit noisy yet very hip and fun. Steak 954 is a boutique steak house serving more than just meat and potatoes. (954, by the way, is the local area code!)
Since I was with a group of journalists on a Spa-Chic press trip staying at the W, we never saw the menu. Instead we had family-style tasting of many restaurant offering served with two Casa Lapostolle wines: 2009 Cabernet Sauvignon, Rapel Valley and the 2010 Sauvignon Blanc, Rapel Valley.
The prices I'm listing are for regular-sized items on the menu.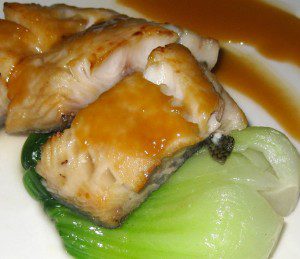 For appetizers we sampled tuna tacos ($19) served in a crisp shell unusually topped with seared foie gras and accompanied with guacamole; some thinly sliced prime beef carpaccio ($18) with shreds of Parmesan cheese; and a simple chopped veggie salad ($11).
Our entrees included a prime NY Strip perfectly cooked, sliced ready to share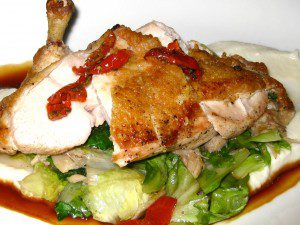 ($39), an incredibly tender and juicy roasted natural chicken ($28) and a delicate tender miso black cod ($27) served with bok choy.  I'd return to dine on any of the three. The veggies were fine just nothing spectacular:  tender carrots ($9), delicate broccolini ($9) and way too salty truffle potato gratin ($10).
Dessert — again family-style for our group— included a 12-layer chocolate cake, cheesecake brulee and scoops of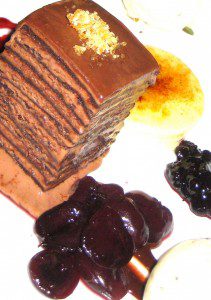 banana, piña colada and popcorn cream. Worth the visit.
After dinner, head upstairs the the fourth floor Living Room for nightcap and entertainment, or out to the oceanfront deck replete with a fire pit to keep you warm on a chilly night.
Steak 954 also serves up a delicious brunch with traditional selections of baked goods, cereals, fresh fruit platters, French toast and omelets, yet  the much quieter dining room is filled sunshine.
– bonnie
Follow @BonnieBOTB

Steak 954
(In the W Hotel)
401 N. Fort Lauderdale Beach Blvd.
Fort Lauderdale, FL 33304
www.steak954.com
(954) 414-8333