If you're looking for a meal that won't break the bank after a hard night partying in Park City or just a meal to fill your tummy after a day on the slopes, Squatters could be your place.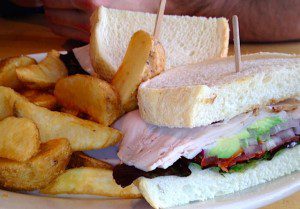 Squatters serves breakfast all day — that plus other Western diner-type food.
I was in the mood for Huevos Rancheras ($9.99), my dining partner just wanted a turkey sandwich with fries ($9.99) and a brew. Squatters offers almost as many brews as dining options. Willy Amendment ($4.79) was the selection.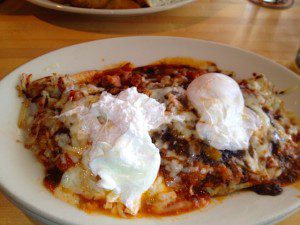 If you order, I recommend asking for the huevos rancheros sans the hash browns.  This hearty breakfast dish consisted of a layer  corn tortillas, refried black beans, pork chile and poached eggs. Under all that was a layer of not-completely-cooked — and totally unnecessary — frozen hash browns. Without those potatoes (meaning discarding them) the dish worked!
Squatters Roadhouse Grill & Pub
1900 Park Ave
Park City, UT 84060
(435) 649-9868
squatters.com