Since my friend Claire had a gift coupon for Sloppy Jose's a Mexican restaurant in Milford, we met there for dinner. While perusing the menu, we nibbled their fresh tortilla chips and decent salsa while we sipped on a glass of (slightly watery) sangria.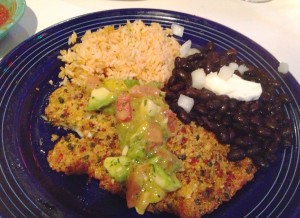 We both chose from the specials menu — she had the moist blackened swordfish in a black bean sauce served with rice and an overcooked squash-onion medley ($15.95). I chose the slightly overcooked and dry tilapia ($15.95) encrusted with tortilla chips, chipotle and lime, topped with a not-so-fresh avocado and pepper salsa and served with black beans and rice. The swordfish would be the better choice.
Not a place I'd choose to return to unless I coming from directly the beach and wanted a nibble.
Sloppy Joses Mexican Restaurant
186 Hillside Ave
Milford, CT 06460
(203) 878-9847