Earlier this year, I attended the crowded opening of Serafina in the Meatpacking District where the liquor flowed, but food was scanty at best. I was able to grab a slice of their fresh-from the oven pizza as I and a hundred other hungry attendees stood in the hallway that led to the kitchen.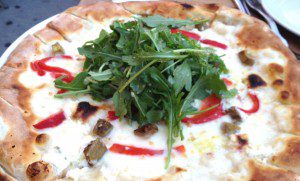 I was invited back to sample their full menu recently. The place was hopping as it was the first night Serafina opened the terrace on the street.  We lucked out — a live concert was at a pop up across the street!
Knowing that Serafina is known for its thin crust pizza — serving over 24 pizza varieties ($9.95 – 29), ranging from the classics, such as Marinara and Margherita, to the very sophisticated featuring rare ingredients, such as  their Tartufo Nero ($29) with robiola cheese, fontina, truffle cheese, truffle oil and sliced black truffles— we decided to start with the one. The Al Caprino  with a crisp thin crust topped with goat cheese, mozzarella, organic baby arugula, red peppers and diced roasted eggplant ($16.50). It was worth the visit. We washed that down with the ripe, fruity, cherry and chocolate Ruvei 2009 Barbera D'Alba ($47)
We were disappointed with both the rigatoni alla bolognese ($18.00) and the menu-described mini filet mignon sliders ($18.00) that were simply overcooked hamburgers.
As I said, Serafina is known for its pizza,. I recommend ordering just that and enjoying the fun location.
– bonnie
Serafina
7 Ninth Avenue
New York, NY 10014
(646) 368-1110
serafinarestaurant.com