I checked into the TIME hotel a couple hours before my meeting with a GMA producer, figuring I'd get some work done in my room. Wrong. The internet was down, but the restaurant on the ground floor had wireless.
With computer case in hand, I entered the restaurant mid-afternoon between the lunch and dinner crowd. The staff warmly greeted me, found an outlet for my plug and did everything to make me welcome.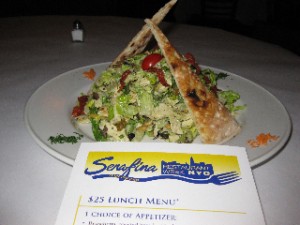 My thought was to order a small nibble and glass of wine, as I was meeting friends for an early dinner.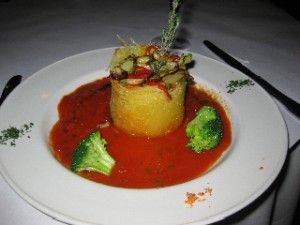 The waitress handed me the restaurant week menu with details of how, for $25, I could have three courses and two glasses of wine. The salad and wine I was considering came to more than that.
I decided to indulge.
I ordered their chicken salad, listed as an appetizer, yet enough for at least two. Tender slivers of chicken and sun-dried tomatoes, chopped lettuces, pine nuts, golden raisins and grape tomatoes were tossed in a light dressing and topped with almost cracker-like thin homemade foccacia triangles.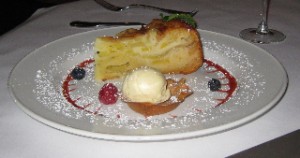 Delicious.
Although full, I did take a few bites of their vegetarian plate, consisting of roasted red pepper, mushrooms, zucchini and more wrapped inside strands of spaghetti squash, all in a light tomato sauce. I wish I could have eaten more.
I told the waitress to save the dessert to offer to the producer (who gobbled it up!).  All this and two glasses of a decent montepulciano.
What an unexpected delectable surprise.
Note to self: Next time you're in the city to see a Broadway show…
Serafina, at the TIME Hotel, 224 West 49th Street (at Broadway), New York City, 212.247.1000
serafinatimehotel@verison.net