Soon after the lights came back on after Sandy,  I headed to Battery Park with some out of towners. We were all shocked at the devastation to lower New York.
After our exploration, we started looking for some place to grab a bite.  Stone Street was getting deliveries, but nothing was open; South Street Seaport was boarded up. We didn't pass any place open until we crossed Canal Street.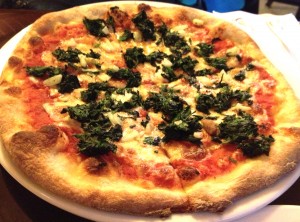 We walked into the first place we saw open, into Sal's Little Italy Family Pizza in Little Italy, a place we learned had been open for 30 years.  The service was hospitable, the thick-crusted pizza tasty.  I'd recommend a visit.
We tried both a small meat and a vegetable pizza. The Carne ($13) was topped with pepperoni, sausage and meatballs, the Verde ($11) with spinach and garlic. Both went well with our bottle of Sangiovese ($25) Giacondi '10, Emilia Romagna.
I'd also recommend their plentiful arugula salad topped with lots of provolone cheese ($8).
Another place that won't break the bank.
Sal's Little Italy Family Pizza
384 Broome Street
New York, NY 10013
(212) 925-0440