A friend wanted to return to Rosa Mexicano, not having been there in years. This time in lieu of margaritas, we  shared a bottle of the Kim Crawford Sauvignon Blanc, Marlborough, New Zealand, 2011 $30.
We started with an order of their famous Guacamole en Molcajete ($14) made tableside by a new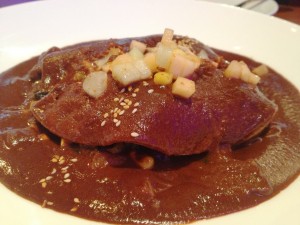 server who'd been there less than a month and hadn't quite mastered the art of making guacamole, although he was quite friendly! He combined fresh avocados, jalapenos, tomato, onion and cilantro served with two salsas — salsa pasilla de Oaxaca (Artisan chile from Oaxaca with roasted garlic and tomatillo) and habanero-cranberry salsa (tangy habanero, cranberries and cilantro) — and tortilla chips. Sadly the chips were not warm as they'd always been in the past.
We split some roasted veggie enchiladas ($13)  that were described as two soft corn tortillas filled with roasted vegetables from Satur and blooming Hill Farm and topped with mole coloradito (a Oaxaca mole of chilies, nuts and chocolate).  The enchilada needed lots more vegetables and much less sauce. (As you can see from the photo, there was more sauce than anything.)
Again the service personnel at Rosa Mexicano made mediocre food more palatable.
Rosa Mexicano Restaurant
9 East 18th Street
New York, NY 10003-1903
212-533-3350
www.rosamexicano.com