At Resto Le Comptoir, chef  Jean-Mathieu Bouchard prepares small plates using local ingredients.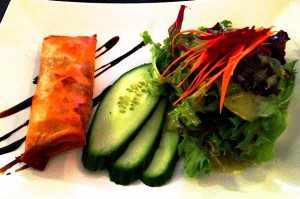 We sampled most of his rich menu as we each ordered three or four of his offerings. The chef chooses to bring out dishes as they are ready — good for the kitchen, not so for the table as some people are eating while others have nothing in front of them. Thank goodness the group I was with  shared, so that we all ate at the same time.
We started with delicious D'Iberville cheese with caramelized onions, cranberries and an almond crisp($8). The fattiness of the Ardennes pork belly with leeks was cut a bit by the cauliflower puree ($10).   I suggest ordering the hearty D'Iberville raclette with lamb sausage (mergez) ($10) on a fall or winter day.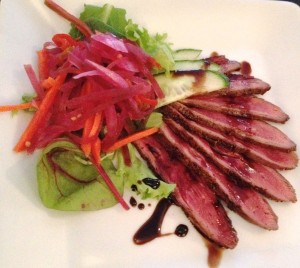 We continued with perfectly seared scallops with corn relish ($12); a crispy lobster roll with braised cabbage, leeks & apples ($12);  a cherry tomato salad with cured dried duck ($10) and a wonderful braised duck ravioli in a mushroom cream sauce  ($12).
Hands down, the most unusual and delicious dish is the bread pudding topped with a slice of seared foie gras ($18); and the least favorite was the gamey lamb liver with goat cheese butter ($10).
The restaurant is only open Wednesday through Saturday evenings.
– bonnie
Resto Le Comptoir
700, rue Gadbois,
Saint-Jean-sur-Richelieu, Canada